Mariano Rivera quietly made history on Tuesday night
Although Mariano Rivera blew a save against the Mets on Tuesday night, he managed to make history.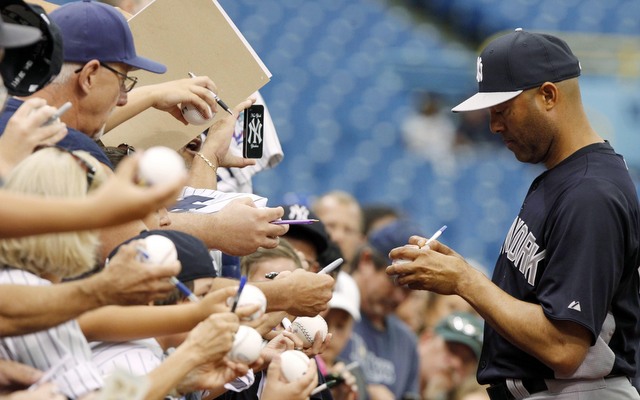 More MLB: Scoreboard | Standings | Probable Pitchers | Sortable Stats | Odds
Yankees closer Mariano Rivera blew his first save of the season on Tuesday night, as the Mets got to him for two runs on three hits in the bottom of the ninth before he could record even a single out. It's the first time in his 19-year-old career he failed a record an out in a save situation.
The sudden comeback by the Mets overshadowed a pretty remarkable piece of history. The two-run, zero-out outing was the 1,072nd pitching appearance of Rivera's career, moving him ahead of Dennis Eckersley and into sole possession of fourth place on the all-time list. Here are the 15 members of the 1,000-appearance club, courtesy of Baseball-Reference:
Jesse Orosco -- 1,525 games
Mike Stanton -- 1,178
John Franco -- 1,119
Mariano Rivera -- 1,072
Dennis Eckersley -- 1,071
Hoyt Wilhelm -- 1,070
Dan Plesac -- 1,064
Mike Timlin -- 1,058
Kent Tekulve -- 1,050
Trevor Hoffman -- 1,035
Jose Mesa -- 1,022
Lee Smith -- 1,022
Roberto Hernandez -- 1,010
Michael Jackson -- 1,005
Goose Gossage -- 1,002
Notice anything about the three guys ahead of Rivera? Well, they're all left-handed. By breaking the tie with Eckersley, Mo has now appeared in more games than any other right-handed pitcher in baseball history.
Maybe I'm the only one who finds that interesting. After all, Rivera has modern reliever usage to thank for the record as much as his own greatness. If saves hadn't become a thing a few decades ago, bullpens wouldn't be where they are today. I still think it's amazing that no other righty has pitched in more games than Rivera. This game is crazy old.
Just in case you're curious, the Mets' LaTroy Hawkins is second to Rivera on the active appearances list with 893. The Rays' Kyle Farnsworth (827) and the Tigers' Octavio Dotel (758) are next. All three of those guys were Rivera's teammates at one point, oddly enough.
Opening Day will be Thursday, March 29 -- the earliest opening day in MLB history

The World Series champion and big-time wrestling fan was on hand Sunday night

The Brewers have very few payroll commitments moving forward
The new, lighter hats will replace embroidered logos with beveled rubber badges

Chipper Jones and Jim Thome join holdovers Trevor Hoffman and Vladimir Guerrero

Another team rumored to be interested in Stanton has confirmed their interest