Mariano Rivera: The measuring stick for greatness (Part 5 of 5)
A tragedy in his Panama homeland summarizes the struggle at times for Yankees great Mariano Rivera: His career vs. family and friends. It teaches him the importance of time.
Rivera closing with grace: Part 1 | Part 2 | Part 3 | Part 4 | Part 5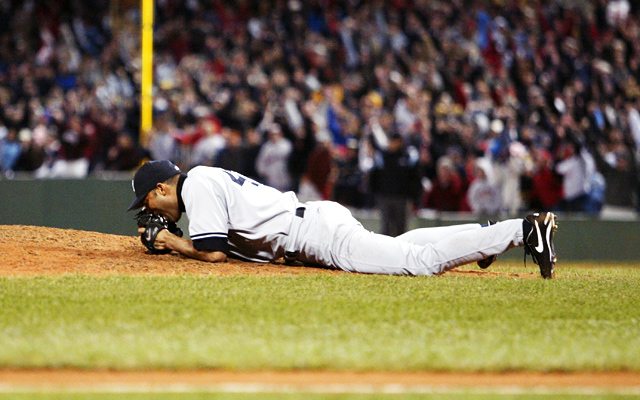 "He no longer dreamed of storms ... nor of great occurrences, nor of great fish, nor fights, nor contests of strength. ... He only dreamed of places now and the lions on the beach."

The most difficult moments for Mariano Rivera have not been the blown save to lose the 2001 World Series, the Sandy Alomar home run in the 1997 playoffs or the stunning loss to the Red Sox in the 2004 ALCS.
No, the most difficult moments always involve separation from family, the sting coming from the gnawing in the shadows when he cannot be in two places at once.
This is where public interest collides with private family demands, and this is where Rivera's dignity and grace have stood the tallest.
His darkest time came just before the 2004 ALCS against Boston, when an uncle and nephew were electrocuted in a tragic accident in Rivera's pool at home in Panama. Mariano and Clara rushed back, the Yankees telling Rivera to take as much time as he needed. They kept a chartered jet on call for him, and he triumphantly returned to Yankee Stadium in the second inning of Game 1.
What the Yankee Stadium fans and the millions watching on television saw were clips of Rivera's dramatic, in-game arrival. His reunion in the bullpen with the other relievers. A surge of energy crackled throughout the stadium as news of his return spread.
What people did not see was Rivera at 30,000 feet, returning to the Bronx alone, his wife and family still mourning back home in Panama.
"It was the longest five hours, that flight from Panama to Newark; oh, my God," Rivera says. "I didn't eat. I was sobbing. It was tough.
"Then I got to the stadium. The first one I saw was Alex [Rodriguez]. He hugged me in the clubhouse. Then I got the chance to eat a little bit, some sandwich, got dressed and went back to the bullpen. Going back to the bullpen, all the guys were on the steps. They hugged me, and the fans applauded. It was a great moment.
"Then I had to pitch, an inning-plus. I don't know how I did that. Because I have no strength. I know strength comes from the Lord. But I have no idea."
Rivera pitched 1 1/3 innings to preserve a 10-7 Yankees win in an unforgettable series that would not end well for New York.

"That was tough," Rivera says of the swirl of emotions in Panama and the Bronx. "I know I just have one task, the ALCS. This accident happened at home, and I had to go back home and take care of that. I wanted to stay there, but I also have a job to do. I have my teammates fighting for a place to go to the World Series.
"Now the emotions are, OK, I'm here, I want to be there. The Yankees have a plane for me to come back. I talk to my wife and said I'm sorry, I wanted to be here. You know I can't, I guess. My teammates are waiting for me. My job is to be there. But also I wanted to be here with you and stay with you. But I need to do this."
Absence from family has taken its toll. As Rivera says, his Yankees have won World Series rings, he has pitched in All-Star Games ... what else is there to accomplish?
Because they are the Yankees, they play many late games -- especially on travel days. They lead the league in 3 and 4 a.m. hotel arrivals. Age does not make this easier.
It is time. He would like to hang out with his family. Travel with his family.
He has hooked the biggest of fishes, yet as he makes this final tour, a surprising thing is happening. The Great Rivera is learning how much he means even to people outside of New York.
"I didn't have no idea how much the fans or people appreciated that, what I had done," he says. "No, I was a simple guy. I do my job and try to be nice to people and move on, you know?
"But now I've seen it. Now I've seen it. Everywhere that we've been, the fans have been gracious. Wonderful. I'm enjoying every minute of it."
Watching this, most of the Yankees shake their heads in amazement. This is such a unique idea, meeting those who work behind the scenes as the Yankees land in each city, thanking them for all they've done for the game, giving them the gift of his time. There are no parameters. They certainly are not required to be Yankees fans.
The meet-and-greets, the photos, the autographs ... Rivera has been indefatigable.
"He's a good person," Yankees pitching coach Larry Rothschild says. "The more good people you're around, the better.
"What he's doing now ... I don't think there are a lot of pitchers who would want to do that. I've watched him, and I've said, 'Gosh, I hope it doesn't affect his performance.' He does it so easily. It's not a forced thing. It doesn't wear him out."
"When we first thought of this," Yankees publicist Jason Zillo says, "we thought it would be a good thing to do. We didn't know where or how it would evolve."
What it has been is extraordinary.
"It's moments like these that make you realize, this is why you're doing this in the first place," Zillo continues. "No matter who you are -- player, fan, someone who works in baseball as a custodian -- there is this ideal that baseball is meaningful.
"You can't fake this. You can fake autographing a baseball. But to sit and talk to people for 35, 40 minutes. ..."
Rivera routinely is late onto the field for batting practice on these days. But to him, it is not even a question. The trade-off is worth it.
He talks about meeting the high school and college students working for the Mariners, kids who dream of a baseball career, and Rivera is the one who walks away motivated. In Kansas City, he met with a family whose 10-year-old son was killed when a storm blew out a window in the Birmingham, Ala., airport.
A month later, that remains on Rivera's mind.
"That was more emotional than the other [meetings] because you have one family who lost one of their kids," he says. "The mother's leg was broken. Then, in the same event, a kid that has cancer, he was playing baseball. And even when he was tired, he asked the coach to give him another inning. He was saying, 'One more, one more.'
"And then another one was in a wheelchair in the same event. He loves baseball so much that I believe his city built him a field. A company built him a field in the back of his house. And he brings kids and they play baseball. I don't know how they do it, but they do it.
"That's beautiful. All of those things I'm learning. How baseball touches people. People's lives. Different backgrounds, different people. Cultures. We're united because of baseball."
That last part, in 30 words or less, is the Meaning of Mariano Rivera. He would have been great anywhere. But words from The Great DiMaggio still echo through the years. Surely, this is the very specific reason the good Lord made Rivera a Yankee. From the largest stages spring the grandest tales. From the deepest seas come the most impressive fish.
We've never seen a career like this, at least not for a closer. We've never witnessed a Farewell Tour like this, not from anyone.
"There's no time to be sad," he says. "No time to be worried. None of that stuff."
So city to city, The Great Rivera soaks up each moment, cherishes every handshake and autograph and still finds time to mow you down in the ninth inning.
"He is the measuring stick," Hall of Famer Reggie Jackson says. "He's the measuring stick for relievers, for greatness, for clutch performance.
"He is the measuring stick for the Yankees organization."
Rivera closing with grace: Part 1 | Part 2 | Part 3 | Part 4 | Part 5
The lefty starter is coming off a terrible season

After acquiring Ian Kinsler and Zack Cozart in recent days, the Angels are trending upward

Cozart's coming off a big season as the Reds' shortstop
The veteran slugger spent the last eight seasons with Cleveland

The Padres may be poised for an active winter

Yes, Bryce Harper is going to make a lot of money next winter