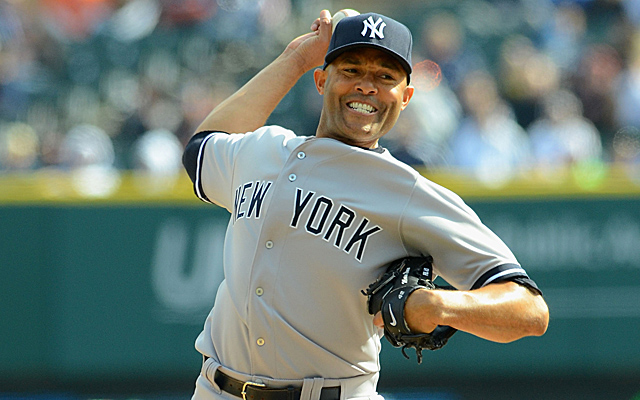 More MLB: Scoreboard | Standings | Probable Pitchers | Sortable Stats | Odds
Yankees closer Mariano Rivera is playing his last big-league season. This isn't news to anyone who follows baseball. But it does mean there are plenty of visits to opposing ballparks throughout the season that will mark his final trip as a player.
The Yankees' current road series in Cleveland is one of those. Thursday's game against the Indians at Progressive Field marks the last scheduled game for the Yankees in Cleveland this season. Barring a visit in the postseason, it's the last time Rivera will be in Cleveland as an active Yankees player.
And boy did he go out with class.
Rivera met with 25 Indians employees Wednesday, including ushers, ticket salespeople, custodians and more for a half-hour. He posed for pictures, answered questions and gave out autographed baseballs to said employees.
"I appreciate what you guys do," Rivera said (via CBS New York). "We see mostly what goes on when we're on the field and not what's going on behind the scenes. I wanted to say thank you for everything that you guys do, for the love and passion you have for your team. It doesn't matter if you are a Yankee fan or not. You are a baseball fan.
"Thank you for being here. I know you are busy, but thank you for taking a little bit of time. I appreciate that."
Rivera also sought out the Indians drummer -- if you've ever even watched a home Indians game on TV, much less been to Progressive Field for a game, you know exactly what that means -- to show his respect. When he was introducted to the drummer, John Adams, he said, "Hey, you the man. Being loyal, being there day-in and day-out. I really respect that." (via CBS New York)
And when Adams offered to let Rivera take a turn on his drum, Rivera declined, saying, "No, I can't. That's your thing." (via CBS New York)
There have been many, many players in baseball history who went about their business with class and dignity both on and off the field. Rivera is a member of this group. In fact, he's in the upper echelon.