Mariners in a sorry state when Eric Wedge says no to their job
Mariners manager Wedge treated the Mariners as if he were a 2012-13 free agent, rejecting an offer to stay on for another year in favor unemployment. So he will leave at year's end, at his own behest.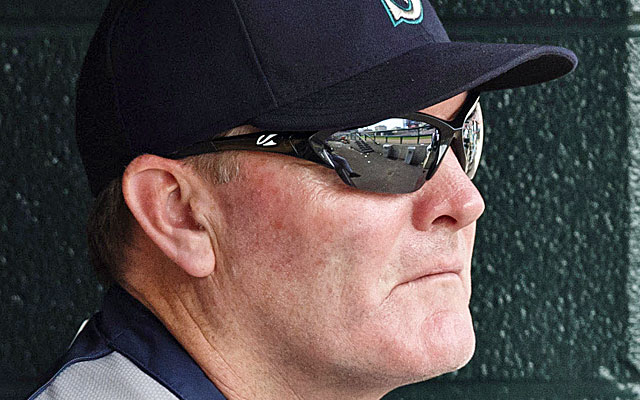 Mariners manager Eric Wedge treated the Mariners as if he were a 2012-13 free agent, rejecting them. Wedge declined to stay on for another year in favor of unemployment. So he will leave at year's end, at his own behest.
Mariners general manager Jack Zduriencik told Mariners writers they were prepared to offer to extend Wedge to bring him back for the '14 season but Wedge opted instead for his own free agency, an unusual call to say the least.
But maybe the Mariners are getting used to rejection. Justin Upton, who presciently included Seattle on a very short six-team no-trade list, rejected a trade to Seattle last winter that would have sent top pitching prospect Taijuan Walker away.
Josh Hamilton rejected an offer said to be for about $90-plus million over four years before landing with the division rival Angels. Other free agents seemed less than eager to come, as well.
The year before, everyone expected them to be a major player for Prince Fielder, who was drafted by Zduriencik for Milwaukee. But it appeared he never really had interest.
Some might say Seattle is fortunate that those first two potential acquisitions fell through, especially the Hamilton one, but that is not the point. It's that Seattle -- a beautiful place that's a great baseball town -- somehow finds itself in dregs territory among Major League teams now.
The Mariners have lost more games than anyone but the Astros over the last four years. Their attendance sank to 28th in baseball last year, a decade after it had celebrated its third straight year with the best attendance in the game.
If players aren't anxious to join the Mariners, it's no wonder.
Some of the rejection by hitters may be tied to a ballpark that has been unforgiving for offensive players, especially before the fences were moved in before this season. But it's pretty clear at the moment that Seattle is far from the most desirable spot to major-league personnel.
The Mariners have posted losing seasons four years in a row, and had an all-time bad offense in a few of those seasons. The one thing Seattle's done well in recent years is draft, but that hasn't led to much winning at the major-league level.
Young pitchers like Walker and lefty James Paxton provide some hope. But it's still unclear where enough offense will come from, especially with the organizational philosophy of non-spending.
Today, Wedge looks like the wise strategist that Mariners people sought when they hired him. Wedge very likely correctly ascertained that he was probably a short-timer in Seattle and perhaps only being retained so they'd have a manager and GM whose contracts expired simultaneously. He understood he was a guy who'd lost three straight years and wasn't getting gold stars from his bosses.
It does seem fairly odd that Wedge would quit only a day after suggesting he was looking for answers and furthermore saying he wanted to come back, pointing out that he'd put roots down in Seattle. Pehaps he was annoyed as he seemed. Perhaps there's some small piece of the story they're leaving out, but there's no reason not to take them at their word that this was Wedge's call. Maybe it was something as simple as him wanting two years when they all wanted to give him one. Whatever, there's no reason to assume they are fibbing about him quitting.
So now, Zduriencik will seek to hire a manger who understands there is a real possibility Zduriencik will be gone after the year, leaving the new guys hanging. Perhaps they could simply elevate Robby Thompson, who may deserve a shot, or bring one of their former players in to try it for a year (a la Colorado and Walt Weiss). But as for going outside, and making a spalsh by hiring someone with an established track record for next year, that's probably not going to happen, not with Zduriencik himself seemingly hanging by a thread.
"Nobody's going to want to take that job," said one coach who's been mentioned as a managerial candidate in some places.
Not too many prospective managers turn down a chance at one of 30 precious managerial jobs. But hey, if someone else turned down the Mariners, they wouldn't be the first.


No, you're not imagining things. This MLB offseason has been very slow compared to the last...

Francesa will retire from radio next month, so he'll have plenty of free time next summer

Get your sports fans something that they'll wear all year
Get 15 percent off any order of more than $75 at CBS Sports Shop

The Twins need help in the rotation, and they may look to the trade market to find arms

Here are the bullet-points of what went down Tuesday regarding MLB and the Braves' punishm...