Mariners in on Samardzija, Hammel; but doesn't Seattle need bats?
Contending Seattle is always full of surprises, and while they are said to like like Jeff Samardzija, the most logical play would be to enhance a lineup that's near the bottom with a .677 OPS.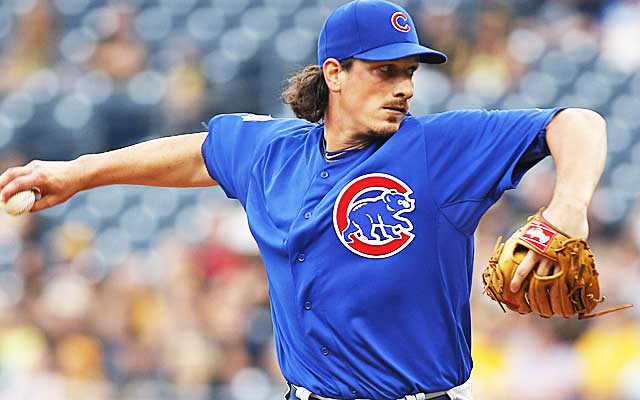 More MLB: Power Rankings | Expert Picks | Latest news & notes | Fantasy news
The Mariners' obvious need is hitting help for stars Robinson Cano and Kyle Seager in a lineup that ranks near the bottom in OPS. Yet, the two players most connected to Seattle trade talks are pitchers Jeff Samardzija (who they are said to like very much) and Jason Hammel.
The Mariners have been reported to be tapped out of money, yet sources say they made a run at old friend Kendrys Morales.
Word is they first proposed a two-year idea before offering a modest one-year number (believed to be close to $5 million) designed to fit Morales' goal to hit the free-agent market again next year before he shocked folks by signing with the Twins for significantly more.
Coming off four straight losing seasons, the Mariners were criticized for spending the the bulk of their off-season budget on one player (Cano) and most of the rest on a closer (Fernando Rodney) when they seemingly had more pressing needs for another veteran starter and lineup help. Yet, here they stand at 42-36 and in the second AL wild-card spot, right after the division rival Angels.
The Mariners are a surprise contender full of surprises.
They remain a very hard team to predict as the deadline approaches -- though it would seem clear they might have to consider young, readily available hitters with spotty records and a need to change scenery since the market for veteran hitting stars is extremely weak.
But with the Mariners, all bets are off.
"I'm wide open," veteran general manager Jack Zduriencik said. "If something makes sense, we'll consider it."
They seem to be considering quite a bit, and that includes younger bats whose contracts they can control. They are also considering starting pitching, even though the starters have been excellent (3.50 rotation ERA is seventh in MLB).
To that end, they have indeed been in touch with the Cubs, who have may have the top rental starter (Hammel) and non-rental starter in Samardzija (Rays star David Price, who was talked about by the Mariners most of the winter, is still no guarantee to be moved).
Mariners people are said to be admirers of Samardzija, but with other needs and a hesitancy to part with top young pitchers Taijuan Walker (who just threw a shutout for Triple-A Tacoma) and James Paxton (who appears on his way back from a lat issue and is due for a bullpen session Friday), it would seem other teams might be more likely to land the Cubs' hirsute veteran righty. But word is the Mariners have been in fairly frequent contact with Chicago.
Zduriencik didn't specifically rule out a trade for Walker, the top prospect, but added: "He's going to be around for a number of years, and if you think he's the real deal ... we're not selling the farm. We're not doing anything foolish." Zduriencik mentioned the organization has done too much of that in the past to emphasize Walker and Paxton very likely aren't going anywhere.
Hammel has been considered, though without speaking directly about that veteran right-hander, Mariners people suggest they aren't necessarily enamored with rentals.
The real need is the offense, and another big bat to go with $240 million import Cano, who's batting .329 and fulfilling hopes, and Seager, who's on pace to exceed 100 RBI. But the hitting market is especially weak.
The other possible issue is some rival GMs say Zduriencik has been asking a lot for talented young players who've had mixed results (first baseman Justin Smoak and outfielder Dustin Ackley) and/or seemed blocked (infielder Nick Franklin). Zduriencik said that's what folks will say when deals don't get done. In any case, Franklin still makes sense since his path to the bigs is blocked by Cano and young shortstop Brad Miller, with the Orioles among having shown interest.
The lack of available big boppers could make a deal for a talented young player with mixed results elsewhere the Mariners' most likely play.
Further complicating their offensive picture, Corey Hart, Michael Saunders and Smoak are performing well in rehab assignments and due to be back in coming days. So they could go in a number of different directions. And despite claims to the contrary, they are believed to have a little money for the right player, possibly thanks to incentive monies targeted to Hart that won't all be spent.
Loot was supposedly an issue after this winter, when the Mariners outspent everyone except the Yankees. But with only the vast bulk of the budget spent on Cano and most of what was left on a closer, the moves definitely raised a few eyebrows. No matter what anyone thought, the Mariners are riding a five-game winning streak and are clearly in the playoff race, even if one assumes the impressive A's win the AL West.
Though his home run total (4) is low, Cano is drawing raves in Seattle for his loose demeanor, leadership skills and hitting. "He hasn't tried to do too much. He takes what's given him," Zdueirencik said. "He's been a big plus on the field and in the dugout."
Rodney also has done what they'd hoped, and enables the Mariners to put all the other relievers in the right roles.
And all the Mariners people love the job new manager Lloyd McClendon is doing, especially in terms of motivation and earning respect. "Lloyd's been outstanding. This has been a very, very hard-working staff and he's done a great job running the club," Zduriencik said.
Now it's mostly up to Zduriencik, as the Mariners endeavor to sneak into the playoffs. Though they are hot now, and young (11 players on their roster not on last year's Opening Day roster) with lots of pleasant surprises, they're still are viewed as a team with holes.
Miraculously they are in the top half in runs scored (321) while only 27th with an unsightly .677 OPS and even worse (28th) on-base percentage (.300).
That points squarely to a need for offensive aid for Cano and Seager.
But with the Mariners, you never know. (And don't forget, they do like Samardzija.)
Another team rumored to be interested in Stanton has confirmed their interest

Chris Woodward has spent the last two seasons with the Dodgers

We heard about it being awful for years, but was it?
Then again, three trades in four days might be behind Jerry Dipoto's usual pace

Ohtani is arguably the best hitter and pitcher in Japan

The O's need rotation help, and Cobb is available for hire