Mariners manager called for wrong reliever during Thursday's meltdown
The Mariners blew a five-run lead in the ninth inning on Thursday night, in part because manager Robby Thompson signaled for the wrong reliever.
More MLB: Scoreboard | Standings | Probable Pitchers | Sortable Stats | Odds
The Red Sox made a miraculous comeback in their walk-off win over the Mariners on Thursday night, scoring six runs in the bottom of the ninth inning to erase a five-run deficit. Seattle cycled through three relievers in the inning, but in the wrong order. Interim manager Robby Thompson made the wrong signal while going out to the mound: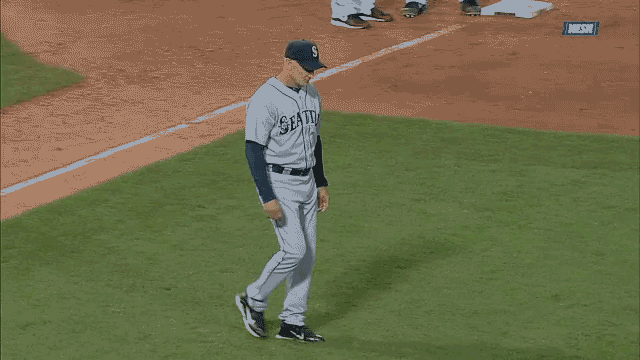 Thompson, who is temporarily running the team while manager Eric Wedge recovers from a "very mild stroke," first signaled for the left-hander before quickly changing to the right. He realized his mistake immediately and tried to pass it off, but the umpires wouldn't let him.
So, rather than bringing in right-hander Yoervis Medina to face the switch-hitting Shane Victorino and right-handed Dustin Pedroia, it was left-hander Oliver Perez. He surrendered a two-run single to Victorino and a one-run single to Pedroia. Perez stayed in the game to face David Ortiz before Medina was finally brought in to serve up the walk-off hit, but the damage had been done.
"If there's anything there for me, it's a lesson learned that if you make any motion with either hand, that's it," said Thompson to Geoff Baker of the Seattle Times after the game. "I didn't realize that."
The loss doesn't do much for the Mariners playoff chances or anything, but that doesn't make it sting any less. Especially since a rookie manager mistake contributed to the bullpen meltdown a great deal. Bringing in a southpaw to face the lefty-mashing Victorino and Pedroia is how five-run leads disappear in a hurry.
(h/t Deadspin)
Martinez had agreed to a deal with Boston last week

Venters threw a scoreless inning for the Rays on Sunday

The contract includes a second year vesting option
Keep tabs on the top 50 free agents on the market right here

New York has been looking for rotation depth all offseason

A closer look at the teams in the Cactus League and Grapefruit League