Mariners may look to clarify GM Jack Zduriencik's situation soon
Seattle may clear up recent reports and rumors regarding Zduriencik in short order. Club president Chuck Armstrong already addressed a wild rumor involving Brian Cashman in an interview with CBSSports.com.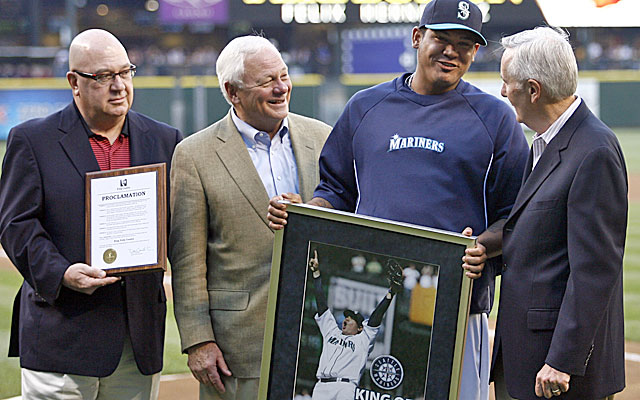 The status of Mariners general manager Jack Zduriencik is expected to be updated if not entirely clarified within the next few days, and possibly as early as Wednesday, people familiar with the situation say.
These have been trying times in Seattle. And confusing, too.
An update might not be a bad idea following a round of reports and rumors only led to more speculation about the contract and job status of Zduriencik, whose team is in jeopardy of posting its fourth straight losing season after a surprisingly winning debut 2009 season in which the Mariners improved 24 games to 85 victories. One report Tuesday suggested Zduriencik was quietly given a one-year extension, meaning his contract would go through 2014, not 2013 as first believed, while a second report suggested that the secret extension was made way back before the season began.
Mariners president Chuck Armstrong, in a brief phone interview, cited club policy in declining to discuss the team's GM situation generally. When confronted specifically regarding a rumor circulating that there could be interest in Yankees GM Brian Cashman should there be a GM change in Seattle, Armstrong offered praise of Cashman but stopped well short of talking about Cashman in that context.
Armstrong, reached in Oakland late Tuesday afternoon there, responded to rumors circulating suggesting Zduriencik could be on the hot seat, telling CBSSports.com, "It's just not our policy -- I know some teams will talk about it -- we just don't talk about contractual situations. Except I can assure you we haven't had conversations with anybody about changing GMs. Jack's our GM, and it's a situation where we're finishing the season. Jack's our GM until he's not our GM."
Even if a change is made, ultimately Armstrong understands any warm personal feelings regarding Cashman very likely wouldn't matter, anyway, as Cashman is under contract for another year with the Yankees. Armstrong also revealed that a previous attempt to interview Cashman while he was under contract was declined by the Yankees, as was their right.
As for word that Armstrong likes Cashman, well, Armstrong confirmed that much by phone – not that it matters seeing how such a scenario would appear to be the longest of long shots.
"I'm a fan of Brian Cashman. We're both Kentucky guys. He's an astute baseball man, and I like him very much," Armstrong said, revealing that he'd asked permission to interview Cashman before he hired Zduriencik five years ago.
Cashman in any case is said by friends unwilling by his nature to try to break any current contract and wholly uninterested in leaving New York assuming the Yankees don't have any desire to release him a year early from his contract -- and they apparently do not. A Yankees-connected person called Cashman's job "secure" with the Yankees despite an atypically rocky 2013 season. Cashman declined comment abut the Mariners when reached by phone.
Should Zduriencik be kept only through 2014 to fulfill his current contract, Cashman's contract would be up then. However, he has important family reasons to want to remain in New York, beyond his obvious loyalty to the Yankees, where he started as a low-level office worker in the late 1980s.
While Cashman has differed with his bosses at a couple key junctures this season, with a couple of those differences becoming public, neither side seems anxious to sever an overwhelmingly positive longstanding relationship that's had its moments lately. The Yankees have averaged 97 wins while winning five World Series title the last 17 years, with Cashman as GM the last 15 of those years.
Zduriencik by phone declined comment on his status, though there was no evidence by mid afternoon Tuesday that he'd been made aware of any plans involving him one way or the other.
Seattle is 58-67 after a nice comeback victory at Oakland Tuesday night. Although the Mariners have gathered several talented young players via the draft in Zduriencik's years to give them a potentially bright future and the signing of superstar pitcher Felix Hernandez last winter to a $175-million, seven-year extension is understandably viewed favorably, progress on the field at the big-league level has been slow.
The Tacoma News-Tribune's Ryan Divish first reported Tuesday that Zduriencik is actually under contract through 2014 after being given a one-year extension, not 2013 as long believed. Shannon Drayer of ESPN-710 in Seattle then followed the first news item by reporting that Zduriencik was in fact awarded that extension before the season. That timing would seem to suggest the one extra year doesn't necessarily guarantee security.
Another interesting twist is that when Zduriencik was offered his extension before the year, sources indicate they believe no extension was given at the time to Mariners manager Eric Wedge, whose contract expires after this season. That could possibly explain why Zduriencik's extension wasn't revealed at the time.
Various Seattle-based writers have suggested Mariners management has been in meetings with Wedge lately, though it hasn't been revealed what was discussed, beyond Wedge's health. Wedge, 45, reportedly is expected to return to the field Friday after missing about a month following a major health scare, a stroke suffered July 22.


Pawol is expected to umpire in the minors again come the regular season

No. 3 Texas Christian is looking to ruin Long Beach State's return home

Martinez's physical isn't taking much longer than usual
The Rangers have a lot riding on Mike Minor and Matt Bush

Though the process is far from complete, taxpayers got good news Thursday

Dickerson had been designated for assignment by the Rays last week