Mariners, Orioles, Blue Jays among many suitors for FA Ervin Santana
It's been a slow process for some of the better free agents with draft choices attached, but teams are starting to call more and more on Santana. A few are mentioned here.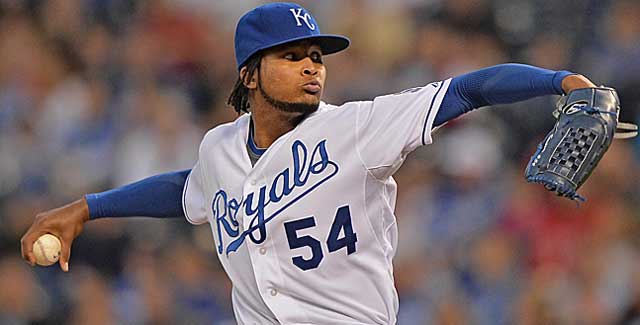 More MLB: Free agency tracker | Spring training schedule
The Mariners, Blue Jays and Orioles -- viewed in recent days as the most logical suitors for top free-agent starter Ervin Santana -- all have been in touch with Santana in recent days. But word is, so have several more teams, including the Indians, Rockies, Royals and many others.
There have seemingly been a lot of twists and turns behind the scenes in the Santana derby, and while Seattle, Toronto and Baltimore all make great sense, the presence of a mystery team or teams shouldn't surprise anyone. Of course, some of these other teams may be bottom fishing, which means looking for a cheap deal they're unlikely to get.
Santana, 9-10 with a 3.24 ERA with the Royals last season, has been an underrated starter for years -- since he came into the league in 2005, only nine pitchers have started more games and only 10 have logged more innings -- but to this point hasn't shown any desire to become an underpaid one.
The rumor of a Jays' offer of $27 million for three years has been debunked, but even the sketchy report may have spurred some new teams to become involved, at the very least. That figure seems low considering Matt Garza got $50 million and Ricky Nolasco $49 million, though it must be noted those two pitchers didn't have a draft choice attached to their signing.
The mystery team often is the winner in these derbies, as was the case when the Brewers signed Garza for four years and the Phillies signed A.J. Burnett for $16 million over one season. So the presence of one shouldn't be a surprise.
Some have suggested Santana should be itching to get to a camp, but Kyle Lohse did just fine signing late last year -- March 25 to be exact -- before posting a stellar season for the Brewers. Actually, teams may be even more needy.
Seattle reportedly has been more seriously considering a big pitching move (Ubaldo Jimenez is the other top starter still available) in recent days, no surprise with spring questions already popping up for Hisashi Iwakuma (finger) and Taijuan Walker (shoulder). While neither ailment has been described as serious, the Mariners' starting pitching ranks already seemed thin.
The Mariners' first-round pick is protected, so they may be somewhat less reluctant to sign a free agent with a first-round draft loss attached than, say, the Orioles, which has seemed especially reluctant to part with its pick. The Blue Jays have the advantage of having two protected first-round picks, which is why folks have been waiting for them to jump into the fray.
The incumbent Royals liked Santana very much, while some view the Indians as more like to try to keep Jimenez than sign Santana. The Rockies and several other teams are thought to have called late in case the market comes to them.
The Reds have some uncertainty in their rotation after Mat Latos' knee surgery, and the Phillies, often a mystery team (before Burnett there was Cliff Lee) can never be counted out -- though there's no evidence they are involved as of yet.  
The Tigers are very early in their rebuild and they're counting on Miguel Cabrera to rebound...

The Grapefruit League and Cactus League seasons started on Friday

Data will be collected and then used to determine whether humidors are necessary in 2019
Spring training play began on Friday, and the Stoneman Douglas tragedy was on the mind of MLB...

Baseball players forced to take pictures usually lead to fun for all of us

One of the most celebrated programs in baseball is looking to continue its run