Mariners, Orioles look like players in the Josh Hamilton sweepstakes
Texas hasn't given up but the incumbent team doesn't seem eager to get into a bidding war.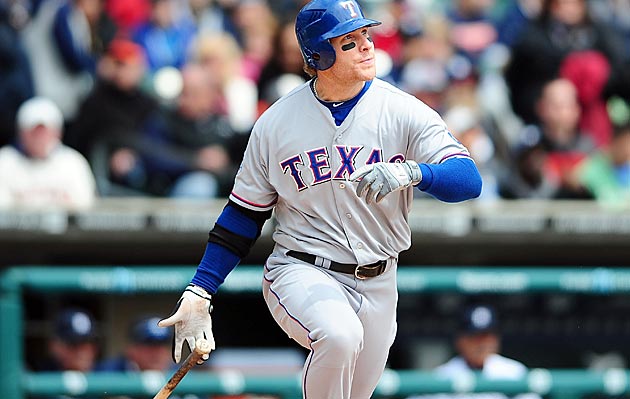 There's an emerging market for Josh Hamilton, but it might not include any big-market teams. (US Presswire)
INDIAN WELLS, Calif. -- The Mariners look like a possible new entry in the Josh Hamilton sweepstakes, people familiar with their thinking suggest.
The Orioles were identified earlier Wednesday as a potential landing spot for the biggest positional star on the free-agent market, which is just beginning to show itself.
The Brewers are a third team that has interest in the superstar outfielder, according to sources, though GM Doug Melvin has said money could be an issue for them.
One executive speculated that the Pirates and Braves might also make some sense, though those teams normally aren't major spenders. Braves GM Fran Wren acknowledged at the interview session that the Braves have weighed Hamilton but stressed that they aren't a team that normally spends huge on one player. Danny Knobler reported on CBSSports.com that the Braves are intrigued, but also that they would prefer a righthanded hitter.
One Pirates person suggested that would probably fall into the category of a "dream," suggesting the chances for them were remote. The Braves have said they are more likely to try to do a couple worthwhile things than make one monster move.
Some or most of the Hamilton market may not surface for a while, as his agent Michael Moye, makes it company policy not to comment at all on talks. And he declined again to do so here the other day.
Meanwhile, the Mariners are a new and sensical entry. "If the right bat's available, we're going to have to talk about it," Mariners GM Jack Zduriencik said. "We're going to have several discussions with agents."
The Mariners played better than .500 ball over the last 2½ months of the season. But they need offensive help, especially at the corners.
"We have to be flexible," Zduriencik said.
The Orioles figure Hamilton would be an excellent fit in their ballpark and that he might help break open all those tight games they were involved in last year when they still went 93-69. Orioles owner Peter Angelos has been waiting for an opportunity to make a big buy, and this could possibly be it. Foxsports.com first mentioned the Orioles as a viable possibility earlier Wednesday.
The Rangers are said to retain some interest -- but probably only at a price. That their lone offer to him was a $13.3-million qualifying bid intended to retain the draft choice is seen as evidence that they surely won't be the high bidder, at the very least. Texas people don't view the situation as exactly analagous to the C.J. Wilson situation of a year ago, when there was basically no chance he'd be back in Texas.
Hamilton is still seen as a long shot to return to Texas now, with the only possibility being if he'd make his choice based on comfort rather than contract. But that doesn't mean they've completely written him off.
Rangers GM Jon Daniels said, "There's a perception out there we don't want Josh back. That's not accurate. It's just got to work out for both sides. The reality is, this guy's been a stud for this franchise."
Supposedly, MLB execs have discussed letting teams hit any three hitters they want in the...

Keep tabs on the top 50 free agents on the market right here

After the departures of Steven Souza and Corey Dickerson, the Rays add a right-handed bat
Rasmus essentially walked away from baseball during last season

Forrest Whitley is the Astros' top pitching prospect and set to work in Double-A this year

Jonah Keri talks to Orioles manager Buck Showalter