Mariners smart to target Cano and Price while they're available
Players like Robinson Cano and David Price are not available every offseason. The Mariners are smart to target both right now while they have the opportunity.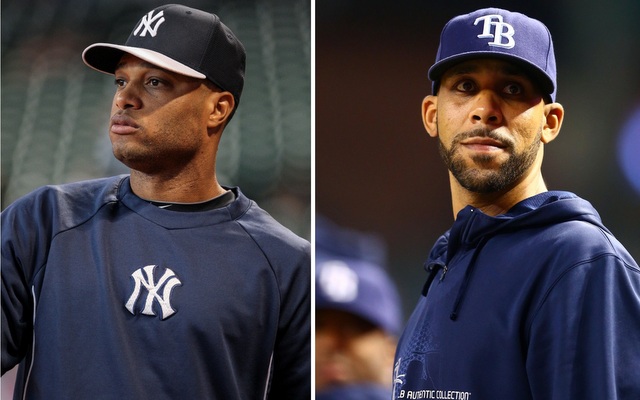 MORE MARINERS: Trade interest in Price? | $230+ million offer to Cano?
According to the various hot stove reports of the day, the Mariners have interest in trading for David Price and may or may not have made a contract offer to free agent Robinson Cano. Just the fact that they've been connected to both players is a pretty strong indication the club has its eyes set on adding a significant piece or two this winter.
The Mariners went 71-91 with a -130 run differential in 2013, down from a 75-87 record with a -32 run differential in 2012. The only reason they were able to avoid a fourth consecutive last place finish was the awful Astros, who jumped from the NL Central into the AL West. All of that happened despite having two Cy Young caliber pitchers (Felix Hernandez and Hisashi Iwakuma) and importing sluggers like Kendrys Morales, Michael Morse and Raul Ibanez.
A team that finished 20.5 games out of a playoff spot usually isn't the type of club that would go out and make a huge splash or two in the offseason. Rebuilding and focusing on getting younger is the typical winter goal, but the Mariners are already relatively young. Felix is still only 27 and others like Mike Zunino, Brad Miller, Kyle Seager, Nick Franklin and Dustin Ackley are on the right side of 26. Granted, Seager is the only one of those position players who has settled in as a regular, but the youth is there.
The Mariners have a very wealthy ownership group, evidenced they their recent commitment to Hernandez and interest in Cano. They can afford some huge contracts and anytime a team can do that, they can turn things around in a hurry. The farm system is healthy, with a pair of high-end starters in Taijuan Walker and James Paxton who could step right into a big league rotation. The foundation is there and the money is there. Seattle itself is a great city and Safeco Field is one of the game's best ballparks. There is potential despite the lack of recent success.
With so many young players signing long-term contract extensions, future free agent classes are really devoid of talent. There is no Cano-caliber player scheduled to hit the open market next winter -- the best position player is the injury-prone and inconsistent Hanley Ramirez -- and who knows what type of players will be available in two or three years given all the extensions being handed out. Free agency could be a wasteland. If you're the Mariners and you're willing to drop huge money on a player, Cano is the best candidate both now and for the next several years.
Signing Cano would free up second basemen Ackley and/or Franklin for a trade, and those guys could be packaged with Walker or Paxton and some other (very good) prospects to land Price, who is two years away from free agency. Seattle would still have one top pitching prospect at the upper levels to go with the utterly dominant Hernandez-Price-Iwakuma trio atop the rotation. Seager and Cano give the club two strong middle of the order bats with youngsters like Zunino and Miller and others filling the other lineup spots.
Are the Mariners two players -- Cano and Price -- away from making the postseason? No. But players of Cano's and Price's caliber are not available all that often and the Mariners are in position to acquire both right now. They have the money to spend and the prospects to trade. Iwakuma and Felix are in their prime years, so there's really no better time to make a push. If some of those young players already on the team take a step forward, the Mariners are going to want to have the other pieces in place to contend. The second wild-card spot makes qualifying for the postseason easier than ever before.
Making the jump from sub-.500 to 90+ wins in one year is not unprecedented. Look at the 2008 Rays or the 2012 Athletics or the 2013 Pirates. There are other examples too (2012 Orioles!), but those are the most notable. The common theme is young players taking steps forward, something that could happen in Seattle at any moment. Rather than waiting for that to happen before adding key veterans, the Mariners could get out in front of things by adding elite talent like Cano and Price right now. On the surface, their interest in those two doesn't make much sense. But when looking at what players are likely to be available in the coming years, Seattle's best opportunity to add high-end talent is right now.
Colon wants to break a Dennis Martinez record

The Twins have been rumored to be interested in Darvish all winter

Rolen is one of the best third basemen of all time, but you wouldn't know it based on this...
Neither Josh Donaldson nor Brian Dozier have talked about a new contract extension

Francisco leads the Dominican Winter League with seven home runs

Thome deserves enshrinement and here's why the case against him does not hold up