Mariners talking about Zobrist; could talks expand to include Price?
Seattle has been in discussions about Ben Zobrist for weeks. David Price is someone they've talked about before.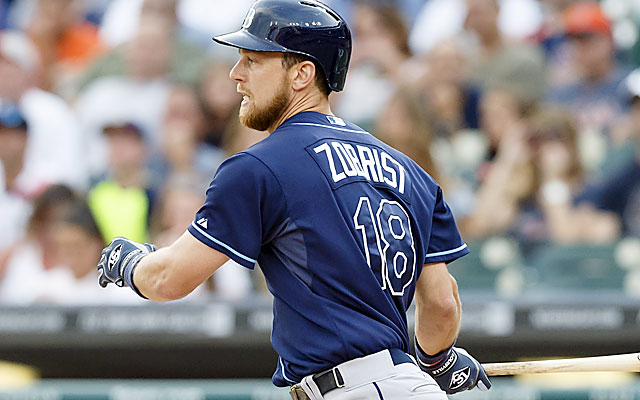 The Mariners and Rays have been discussing potential deals involving star utility-man Ben Zobrist, as Seattle looks to bulk up its offense and shore up its roster for a playoff run, sources confirm.
According to Jon Morosi of FOXsports.com, Seattle also has talked about the Rays' superstar pitcher David Price as well as Zobrist, and such a combo certainly would transform the Mariners. However, to this point, Zobrist has been the main focus of the talks, with those discussions going on for weeks, league sources say.
Younger utility-man Nick Franklin is someone who's come up in talks with the Rays, and he'd fit Tampa as someone who might be able to do some of the things Zobrist does. He is from Orlando, and wouldn't mind a move closer to home.
The Mariners are interested in fortifying their lineup, and also have talked about the Twins' Josh Willingham, the White Sox's Dayan Viciedo and the Phillies' Marlon Byrd, though a trade for Byrd, whose four-team no-trade clause includes Seattle, is said to be "less than likely" now by a league source.
One reason that Byrd isn't a likelihood is because he has expressed a deep preference to stay in Philadelphia, and people with Mariners ties wonder whether Price's own geographic preferences would ultimately discourage Seattle from making a big play for the star left-hander.
Price's agent Bo McKinnis told Ken Rosenthal at the winter meetings that Price wouldn't sign an extension in Seattle, and while Price said at the All-Star gathering Monday he'd leave those comments to his agent, he suggested he loves the south or somewhere near his Tennessee home. He kiddingly named the Nashville Sounds as his favorite team in answer to a question about his preferred locale.
The Mariners' ownership group is "very big" on bringing in players who want to be in Seattle, especially if they're committing huge dollars to such a player, someone with ties to the Mariners pointed out. Talks about Price broke down in the winter after the Mariners declined to include top pitching prospect Taijuan Walker, and possibly also Price's preference, though Seattle's current standing as the second wild-card team could make them somewhat more aggressive.
As for Zobrist, he'd make a nice fit for the Mariners, who need more consistent right-handed pop. Though he isn't having his best year -- he's hitting .266 with six home runs -- he'd also provide more veteran leadership in an improving but young clubhouse.
Zobrist is manageable in terms of dollars, as he makes $7 million this year, then $7.5 million next year with a $7.5 million option for 2016 (with a $500,000 buyout).
The Mariners are in good shape in terms of having a stockpile of prospects to trade. Young hitter D.J. Peterson is someone whose stock is on the rise, though he presumably wouldn't go anywhere unless it was a really big deal.
Judge and Sanchez played huge roles in the Game 4 comeback

The Yankees trailed by four going to the bottom of the seventh and still won
The Yankees rookie was caught stealing vs. the Astros in Game 4 of the ALCS, but he took the...

The Cubs are facing a right-handed starter for the first time in the NLCS

The Red Sox should probably just lay low on Twitter for a while