Mark Appel's stock is high (he could go No. 1) so his gamble paid big
Stanford right-hander Mark Appel should get a deal well in excess of the $3.8 million he left on the table last year.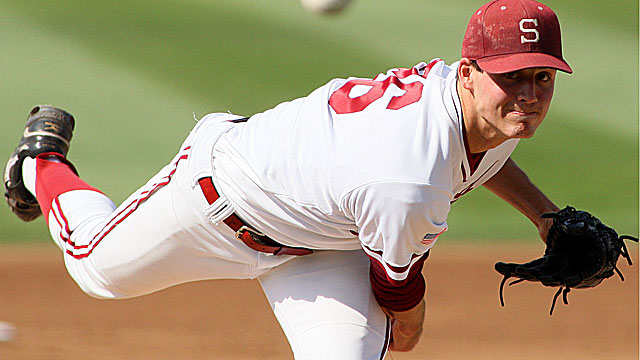 Stanford senior righthander Mark Appel gambled on himself by passing on a chance to sign with the Pittsburgh Pirates after they picked him No. 8 overall a year ago, and it appears Appel is about to win big.
Appel could well be the first overall choice of the Houston Astros in Thursday's MLB first-year (amateur) player draft. But even if he isn't chosen No. 1, he will almost surely obliterate the approximately $3.8 million he turned down from the Pirates last year.
"It worked out for him,'' one rival agent said, saying Appel will very likely also easily beat the $6 million figure some suggested the Astros might have been willing to spend on him last year.
While the Astros passed on Appel last year when the harder slot system was first instituted, instead signing No. 1 overall pick Carlos Correa at a lower rate than it would have taken to secure Appel, they may not let the Houston native Appel go again. There's been some extra suggestion lately the Astros are seriously considering Appel -- though University of Oklahoma pitcher Jonathan Gray, University of San Diego third baseman/outfielder Kris Bryant and North Carolina third baseman Colin Moran reportedly are in the mix for them, as well.
Houston's strategy last year was to get a decent deal at about $4.8 million with the talented high school shortstop Correa, enabling them to pay well above slot to their next pick, pitcher Lance McCullers Jr., as well as their fourth-round selection, third baseman Rio Ruiz. But with slots up this year by a significant percentage (the Astros have a baseball high $11.69 million to spend in total, including a slot of $7.79 million for the No. 1 overall pick) and a second chance to revisit the situation after Appel put together an even better season, there seems to be a decent possibility the Astros don't let Appel pass a second time.
After taking his gamble, Appel, who throws in the mid-to-high 90s with four pitches, went 10-4 with a 2.12 ERA and had 130 strikeouts against only 23 walks and 80 hits in 106 1/3 innings as a senior at Stanford. So it's no wonder the buzz is growing abut Appel being the possible No. 1 pick.
Jim Callis of Baseball America, who follows the draft as close as anyone, has suggested in recent pieces that Appel may be most likely now for Houston. Appel would surely seek at least the slot number of $7.79 million, and such a deal would limit the Astros' opportunity to go well above slot with later picks.
Appel's one actual offer from the Pirates last year was for about $3.3 million, though they suggested they could probably bump it to $3.8 million. Appel never came close to accepting.
"This had nothing to do with the Pittsburgh Pirates, it had to do with the system,'' Appel's adviser Scott Boras said by phone. "When they drafted a player at a slot grandly below the value of the player, the system did not allow them to sign the player.''
There was a suggestion in a couple reports last year that the Astros might have been willing to go to $6 million last year for Appel, but the Astros denied an offer was made at the time, and Boras said, "No team communicated with Appel.''
No doubt it was a painful day for Appel. But the way should pay off Thursday.
Where might the Orioles third baseman land?

Kinsler will slot in at second base for the Angels

The Marlins got a better return for Ozuna than Stanton or Gordon
The two teams are going about things in very different ways

The Marlins are indeed in teardown mode under new ownership

The Marlins still have more attractive pieces