Mark Teixeira talks about being overpaid and on the decline
Yankees first baseman Mark Teixeira spoke candidly to the 'Wall Street Journal' about being overpaid and on the downside of his career.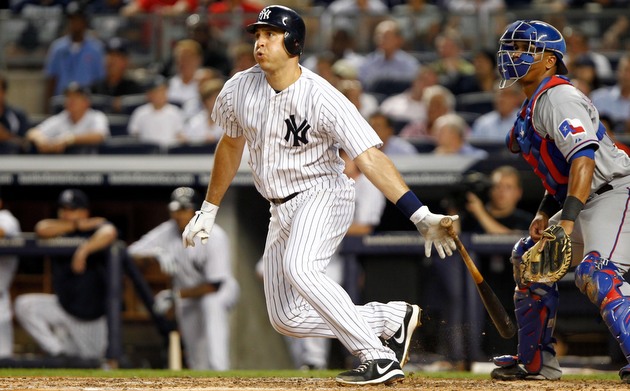 Teixeira hit .290 from 2003-09 but just .252 since. (US Presswire)
It's not often that an athlete will talk about being on the decline, never mind being overpaid. It takes a high level of confidence (and arrogance) to be a big leaguer, so it's rare to see players honestly evaluate themselves. That's why Dan Barbarisi's feature in The Wall Street Journal on Mark Teixeira is so refreshing -- the Yankees first baseman spoke candidly about being on the downside of his career. Here's a snippet ...
"I looked at the first six or seven years of my career, I was in my 20s, it was easy. I wasn't searching for the right formula. To think that I'm going to get remarkably better, as I get older and breaking down a little bit more, it's not going to happen," Teixeira said.

(snip)

"Maybe I'm slowing down a tick. Look, I'm not going to play forever. Eventually you start, I don't want to say declining, but it gets harder and harder to put up 30 [homers] and 100 [RBI]," Teixeira said.
Teixeira, who will turn 33 a few days after opening day, acknowledged he's no longer going to try to recapture his youth. He will instead focus on the things that he does well now, specifically drawing walks, hitting for power and playing brilliant defense. Last summer, he worked on hitting the ball the other way in an effort to beat the infield shift, but it yielded negative results.
The Yankees signed Teixeira to an eight-year, $180 million contract before the 2009 season, and he's still owed $90 million through 2016. The former Texas Ranger, Atlanta Brave and Los Angeles Angel was happy to admit to Barbarisi that he is overpaid.
"I have no problem with anybody in New York, any fan, saying you're overpaid. Because I am," Teixeira said. "We all are."

"Agents are probably going to hate me for saying it," he continued. "You're not very valuable when you're making $20 million. When you're Mike Trout, making the minimum, you are crazy valuable. My first six years, before I was a free agent, I was very valuable. But there's nothing you can do that can justify a $20 million contract."
Barbarisi's entire article is a must-read, especially since it relates to perceptions about how players aged during the so-called Steroids Era and how they age now.
Teixeira hit .292/.383/.565 with 39 homers during his first season in New York, his age-29 season, but his OPS+ has dropped in each of the last four seasons. Last summer, he battled numerous injuries, including wrist and calf issues, to go along with a nagging bronchial infection.
For more baseball news, rumors and analysis, follow @EyeOnBaseball on Twitter, subscribe to the RSS feed and "like" us on Facebook. Also, individually interact with us on Twitter: @MattSnyder27, @daynperry and @mikeaxisa.

Gallardo spent the first eight years of his career in Milwaukee

MLB revenues are at a record high right now, but teams aren't spending it on players

Chicago added Tyler Chatwood earlier this offseason but might not be done adding to the ro...
The Dodgers and Braves pulled off a whopper on Saturday

Sabathia will reportedly spend a 10th season in the Bronx

Fowler suffered a knee injury at Chicago's Guaranteed Rate Field