Mark Teixeira's season-ending leg fracture a huge blow for Yankees
The Yankees have lost first baseman Mark Teixeira for the rest of the season due to a small fracture in his leg. It's a huge blow as the team tries to chase down the Blue Jays in the AL East.
Just a few hours before the start of their most important series of the season, the Yankees were dealt a significant blow Friday. Tests revealed a small fracture in first baseman Mark Teixeira's right shin, GM Brian Cashman told reporters. His season is over.
Teixeira initially suffered the injury about four weeks ago, when he fouled a pitch off his leg. Here's the play, which looks like every other foul ball off the leg you've seen:
Initial tests showed no fracture in Teixeira's shin, only a bone bruise and some inflammation. He rested for a few days but wasn't feeling any better, so the team sent him for another round of tests. Those again showed only the bone bruise and inflammation.
After two more weeks on crutches, Teixeira went for another round of tests Friday that revealed the fracture. Cashman said he believes the fracture was there the entire time, but the first two rounds of tests simply missed it. The injury comes with a three-month timetable for recovery, and Teixeira is expected to be ready for spring training.
Teixeira, 35, hit .255/.357/.548 (148 OPS+) with a team-leading 31 home runs and 79 RBI before the injury. He was also playing his typically-excellent defense at first base. Teixeira was the team's MVP, basically. There's a reason he was selected to the All-Star Game earlier this summer.
With Teixeira sidelined, the Yankees will turn to 22-year-old rookie Greg Bird at first base. He has hit .241/.319/.458 (114 OPS+) with five home runs in 24 games filling in for Teixeira the last few weeks, which is quite good by "rookie thrust into a postseason race" standards.
But still, Bird is not Teixeira, and the Yankees just took a significant late-season hit. They lost their best hitter -- not just their best hitter, but a switch-hitter who helps balance their lefty-heavy lineup -- and their best run producer. That's not good.
The Yankees come into Friday at 77-61 and 1 1/2 games behind the Blue Jays. They open a four-game series with Toronto at Yankee Stadium on Friday night. Due to Thursday's rainout, they'll play a doubleheader Saturday and squeeze all four games into three days.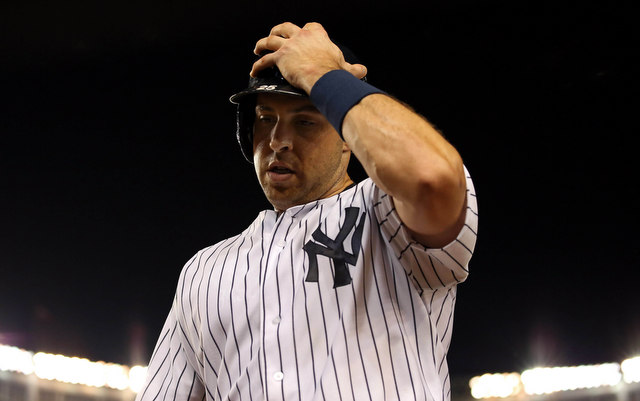 Acuna won't turn 21 until late this year; he hit .344 in Class AAA last year

Did everyone spend too much time thinking about Stanton, Judge and even Sanchez?

Ohtani had generally good stuff on Tuesday, but wasn't quite commanding it
Keep it right here for all of Tuesday's MLB action

Sure, the April numbers from the Cubs' young bats look good, but a look behind the stats is...

Still with this nonsense, guys?