Marlins agree to give Adam Greenberg his one shot
The Marlins have agreed to sign Adam Greenberg to a one-day contract, giving him a chance for a second major league plate appearance. He was hit in the head in his only other major league plate appearance in 2005.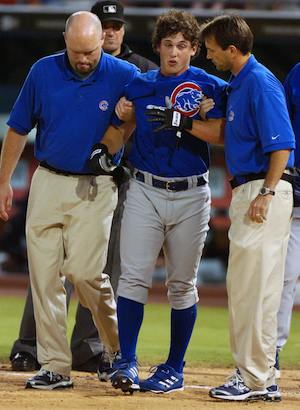 Adam Greenberg was hit in the head in his only plate appearance for the Cubs. (AP)
Perhaps desperate for just one positive story from the 2012 season, the Miami Marlins have announced they'll sign Adam Greenberg to a one-day contract and give him an at-bat against the Mets on Tuesday.
Greenberg, if you don't remember, was hit in the head in his one plate appearance in his big league career back on July 9, 2005. Now 31, Greenberg was the subject of a campaign to get him one at-bat. Coincidentally (or maybe not), Greenberg's one plate appearance was against the Marlins. Now he'll suit up for the Marlins.
"From the bottom of my heart, I'll be ready for it," Greenberg said on NBC's "Today" show (via MLB.com).
Greenberg will face the Mets' R.A. Dickey -- not quite the easiest task.
In another layer of coincidence, when Greenberg was hit by the Marlins' Valerio de los Santos, Carlos Zambrano pinch-ran for him. Zambrano is now with the Marlins.
"I'm extremely proud to extend this opportunity to Adam," Marlins owner Jeffrey Loria said in a statement. "He has earned this chance as his love and passion for the game never diminished, despite his career tragically being cut short. I look forward to seeing Adam step up to the plate and realizing his comeback dream next Tuesday."
Greenberg recently played for Israel in the World Baseball Classic qualifying round in Florida, walking in his only plate appearance. He went on to score.
Greenberg will donate his one-day salary to the Marlins Foundation, which will make a donation to the Sports Legacy Institute, an organization that advances the study, treatment and prevention of the effects of brain trauma in athletes and other at-risk groups. Here's the video that got all of this done:
For more baseball news, rumors and analysis, follow @EyeOnBaseball on Twitter, subscribe to the RSS feed and "like" us on Facebook.