Marlins could be moving further away from trading Stanton
The Marlins' rebuilding project is moving along quicker than many expected, and that could affect the future of Giancarlo Stanton.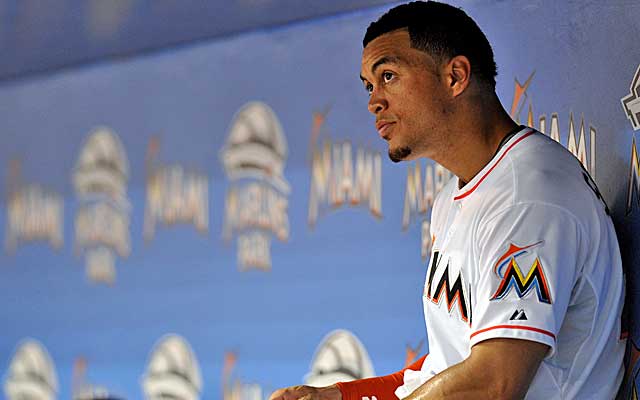 NEW YORK -- Teams still call the Marlins about Giancarlo Stanton.
The Rangers, for one, ask about him regularly.
But the Marlins continue to indicate that Stanton isn't available now. If anything has changed, it's that they could be moving farther away from trading their biggest remaining star, rather than closer.
In other words, don't count on them moving him this winter, either.
The Marlins rebuilding program is moving along faster than many expected, to the point where one scout who follows the organization declared last week, "They're going to be good again, and soon." The Marlins believe the same thing, and they're telling teams that they want to see how the 23-year-old Stanton meshes with their other developing young stars, rather than find out whether a Stanton trade could bring them even more unproven talent.
The Marlins are still in sell mode. They traded Ricky Nolasco to the Dodgers, and they're open to trading relievers (Steve Cishek, Chad Qualls, Ryan Webb and Mike Dunn) and veteran position players (Placido Polanco, Justin Ruggiano) later this month.
Stanton will stay, they say, almost certainly for this year and likely for next year, as well.
He entered Sunday with 10 home runs and an .826 OPS, despite starting slow and then spending six weeks on the disabled list. In a little more than a month since he returned, the Marlins have gone 17-13, the third-best record in the National League over that span, behind only the Pirates and Dodgers.
Having Stanton and Logan Morrison back has obviously helped, but even more encouraging has been the performance of the Marlins' young rotation. Twenty-year-old right-hander Jose Fernandez ranks in the top 10 in the National League with a 2.75 ERA, 22-year-old Jacob Turner (acquired last year for Anibal Sanchez) has a 2.33 ERA in eight big-league starts and 23-year-old Nathan Eovaldi (acquired last season for Hanley Ramirez) has a 2.93 ERA in five starts.
Scouts also have been impressed by 24-year-old shortstop Adeiny Hechevarria (acquired in the big trade with Toronto) and 22-year-old center fielder Marcell Ozuna.Agewise, Stanton fits right in. The difference is that he is already accomplished, and already well on the way to making significant money. But he's still cheap this year ($537,000), and still 3½ years from free agency.
The Marlins don't need to trade him now, and they don't need to trade him this winter, unless they think they can't hope to build a contending team before he becomes too expensive to keep.
There's more reason now to believe that they can. And thus, there's more reason to believe he won't be traded anytime soon.
But you can be sure that teams will keep asking.
In the last several years, lots of droughts have ended in MLB

The most likely scenarios are Dodgers winning in five or six games

Despite a seven-game ALCS, the Houston rotation lines up nicely for the World Series
Sabathia and the Yankees are a perfect fit for each other

Bregman threw out Greg Bird at the plate to preserve the Astros' lead

The 2017 World Series begins Oct. 24