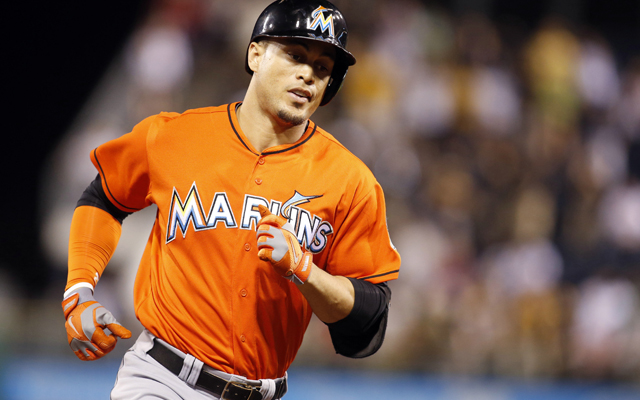 More MLB: Power Rankings | Expert Picks | Latest news & notes | Fantasy news
The Marlins are said to be intent on making a "legitimate" attempt this winter to lock up superstar outfielder Giancarlo Stanton, according to sources, but word is some within the  organization are still less than optimistic they'll be able to sign Stanton to a long-term deal anytime soon.
With the intention to try to extend Stanton and secure him for Miami, Marlins higher-ups made clear before the July 31 trade deadline to all interested teams that they had no interest in trading their one big positional star. Some rival teams are holding out hope, however, that their stance could change this winter if the fears of Marlins higher-ups are realized and it becomes clear a long-term extension isn't in the offing.
Marlins brass attempted to start extension talks last winter, but Stanton told the team he'd like to wait through the 2014 season and see how it goes. The Marlins have abided by that request. People close to the situation say there has been no contract talk since.
According to friends around the team, Stanton is said to be noticeably happier than he was two winters ago when he was upset that the organization abandoned any short-term playoff hopes by trading its high-priced veteran stars, including Jose Reyes, Mark Buehrle and others. But while his friends say he doesn't even think for a moment about money or an extension, they also point out that his greatest goal is to play for a perennial winner, which doesn't necessarily bode well for the Marlins' chances to keep him and may play into their fears.
Stanton's fair-market price tag has only increased markedly with his superb performance, though if there's an issue for Stanton, friends around the team suggest it's more about wins (and the ability to play for an annual contender) than dollars.  To this point, the Marlins have showed no outward desire or inclination to trade their franchise type position player, but rivals wonder if that could change as he draws closer to free agency without an extension. He is free-agent eligible after the 2016 season, so the Marlins could still decide to keep him this winter even if they are unable to forge an extension.
Of course, if Stanton does hit the trading block this winter, it will be a market bombshell, as the 24-year-old slugger confirmed his superstardom this season with across-the-board improvements, including on defense and the basepaths, that's stamped him as one of the few most valuable properties in the game. This is especially true with power at a premium now. He leads the NL with 27 home runs, 75 RBI, 232 total bases and 18 intentional walks. That last stat shows the respect he engenders, even with a resurgent Casey McGehee, a Comeback Player of the Year candidate, batting behind him.
Rivals' hopes of a trade may be bolstered by knowing that the Marlins spent a fair amount of time and resources scouting some minor-league systems and players, though extra scouting should only be expected since Miami beefed up its scouting ranks with the hiring of Dan Jennings as general manager a year ago.
The Red Sox and his hometown Dodgers -- Stanton is from Panorama City in the Los Angeles Valley -- are among two of many teams known to have made several inquiries about Stanton, though oftentimes they come down to casual mentions between scouts since Miami has made clear it isn't listening to offers.
Stanton's Miami friends suggest that the superstar loves the improved camaraderie and clubhouse cohesion this year that's enabled them to stay competitive even after the great young pitching ace Jose Fernandez was lost for the season, plus personable and scouting savvy new GM Jennings, and of lesser import, the city of Miami (he lives downtown), and it's likely no coincidence he's burnishing his superstar credentials with a monster season at a time he's grown somewhat happier with his surroundings. But that doesn't mean he's necessarily ready to sign up to stay long-term.
Indeed, the Marlins have surprised folks, perhaps even Stanton himself, by taking a nice step forward, as they've remained on the fringe of the NL race, though folks around the team have serious worries about whether the payroll (they remain 29th in baseball at about $50 million), history and more may be too much to overcome in any Stanton talk.
With their perennially bottom-third payroll, it may be a hard case to demonstrate that annual contention is realistic, especially if more improvements aren't in the budget or plans. Jennings did a nice job improving the team on a shoestring last winter (McGehee, for instance, came for $1.1 million following a stint in Japan). But it may take even greater commitments to wipe out the whole history here.
While Stanton, who makes $6.5 million this year but carries a market value of $25-million-plus as a free agent, very professionally and maturely has long since moved past the devastating quickie fire sale that triggered his famous unhappy tweet two winters ago, one Miami friend said Stanton has understandably transitioned from hopeful to "hardened." That would seem to fit an uncertain-to-pessimistic view regarding a possible Stanton signing on the part of Marlins brass.
Either via back-channel or direct means, word is the Red Sox and Dodgers are two of many teams to have expressed strong periodic interest even at a time the Marlins showed no inclination to trade their big positional star. The leaked Astros notes suggested they made a pass, too, though the exact exchange reported, whereby the Marlins countered by asking for George Springer and Carlos Correa, was denied to have happened in that way by Jennings. There's reason to believe most teams would have interest in a 24-year-old superstar, though the Red Sox and Dodgers are clearly two teams that would have the ammunition in terms of payroll and young talent to work a deal.
Marlins people show no interest in discussing the Stanton situation aloud. "We're focused on the now. Win today is what we're thinking about," Jennings said.
There certainly has been an improved mindset and resolve under second-year manager Mike Redmond, though whether that could become determinative is unknown. Stanton is setting a high standard, with his .290 batting average, .542 slugging percentage and other superior numbers, and has equally high expectations in terms of contention.
"All this kid wants to do is win," a friend said.
Thanks to all his hard work, beginning in winters at UCLA, he is way more than a slugger now. Though that's what draws the attention in an era where there's a paucity of power.
He has worked to become a borderline Gold Glove defender and useful base stealer, and friends say he is determined to write a legacy of winning. Whether he believes that could be done long-term in Miami remains to be seen.