Marlins' Loria explains deal: 'We have to get better ... We have to take a new course'
Marlins owner Jeffrey Loria also said he is not selling the team in the wake of the 12-player mega-trade.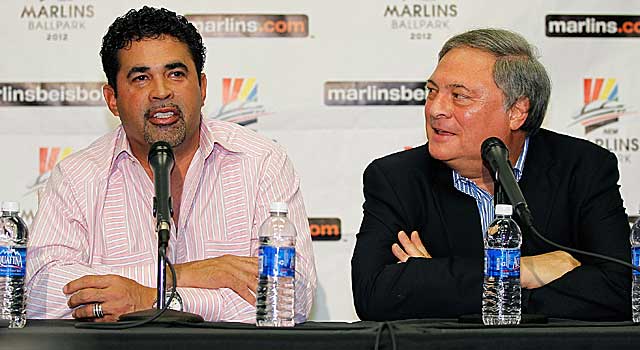 Happier times: Ozzie Guillen and Loria during Guillen's introductory news conference last season. (Getty Images)
CHICAGO -- On his way into the baseball owners meetings here, Marlins owner Jeffrey Loria -- in an interview with CBSSports.com -- defended the megadeal with the Blue Jays that has been characterized as a "fire sale."
More on Marlins-Jays deal
Related content
More MLB coverage
"We finished in last place. Figure it out," a defiant Loria said.
Loria emphatically said he isn't selling the team.
"Absolutely not," Loria said. "That's more stupidity."
Loria took issue with the coverage and suggested selling the team's veteran stars was the right course of action.
"We have to get better," Loria said. "We can't finish in last place. We finished in last place. That's unacceptable. We have to take a new course."
Some are suggesting the Marlins are in some financial trouble after their disappointing first year in new Marlins Park. But Loria made the case that the trade was made because the course they were on was not working.
The team didn't draw as hoped, and privately, Marlins people lay some or much of the blame on Ozzie Guillen for his foolish complimentary comments about Fidel Castro and an inability to get the team moving in the right direction.
Loria had only positive words for Jose Reyes, who along with Josh Johnson and Mark Buehrle are part of the 12-player trade that will save the Marlins $166 million once it is finalized. The Blue Jays are asking the stars they've acquired to take physicals, and at least Josh Johnson was on the way to Toronto on Wednesday.
"Wonderful guy. I love Jose Reyes," Loria said. "What's not to love?"
Does the Jackson signing mean the Giants are out on Lorenzo Cain?

Acuna edged out Shohei Ohtani and Vladimir Guerrero Jr.

There's no reason to run over the cases for and against Bonds, so let's have fun instead
The coveted right-hander would certainly be a fit in Milwaukee

We rate the best mustaches from random baseball cards because, why not?

Colon wants to break a Dennis Martinez record