Marlins missed a big opportunity after splashy offseason -- but how big?
The Marlins' plan was that with the lure of a new stadium and an exciting team, this would be the year that they'd really start building a fan base. The stadium is fine, but the team isn't, and it's clear now that the Marlins have missed that opportunity. How big a miss? We'll just have to wait and see.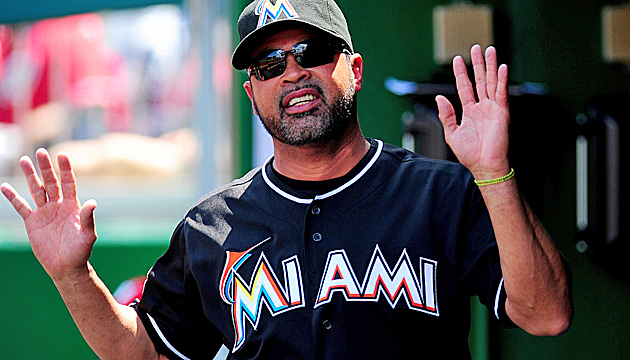 The Marlins have a nice new ballpark, but the product on the field is lousy. (US Presswire)
There's no way around it.

This year was a big missed opportunity for the Marlins. You know it. They know it.

But how big?

You can't know. They can't know. We can only guess.

We can only wait and see.

Even now, looking back at all that has gone wrong, the idea seems sound. The Marlins, who have struggled for years to build a fan base in South Florida, would excite their fans with free-agent signings designed to turn the team into a contender in the first year in a new ballpark.

Attendance would go up, as it always does in a new park. The fans would come, and the fans would stay, because the ballpark would be great and the team would be winning.

The big new contracts, most of them heavily back-loaded, would pay for themselves.

The fan base would be energized. The Marlins would have them for years to come.

If the Marlins won, the plan might have worked. But they haven't won, so it can't -- not that plan, anyway.

The fans showed up this year, perhaps not in the numbers the Marlins hoped for, but in far greater numbers than they had ever seen before. Attendance through 54 home dates has averaged 28,406 a game, a 64 percent increase over last year in the football stadium.

The fans, by all accounts, like the new park. They should. It's a nice park. The Marlins got it right.

But they didn't get the team right. The Marlins are tied for last place in the National League East, tied with the equally disappointing Phillies.

And that's a problem, a big problem.

The Marlins know this coming winter can't be as exciting as last winter was. They know that attendance almost always falls in the second year in a new ballpark. They know that attendance falls off when a team loses.

Winning could have expanded a fan base that badly needs building. Losing means the only thing the Marlins have to sell is a nice ballpark -- and we already know that's not enough.

The plan was to sell the new park -- and the new exciting winning team. The plan depended on winning, and the Marlins didn't win.

The Marlins had fans' attention when this year began. They had a real opportunity.

Now that's gone.

How long will it take for the Marlins to recover?
Boston wants to add two big bats to their lineup, not just one

Even more relievers signed on the final day of the Winter Meetings

Keep tabs on the top 50 free agents right here
The league is not happy Ohtani's medical information leaked

Kansas City and Baltimore were quite busy at the Rule 5 Draft

Piscotty's mother was diagnosed with ALS earlier this year