Marlins owner Jeff Loria is already sabotaging manager Mike Redmond
Marlins owner Jeff Loria is already sabotaging rookie manager Mike Redmond by tinkering with the team's lineup and pitching plans.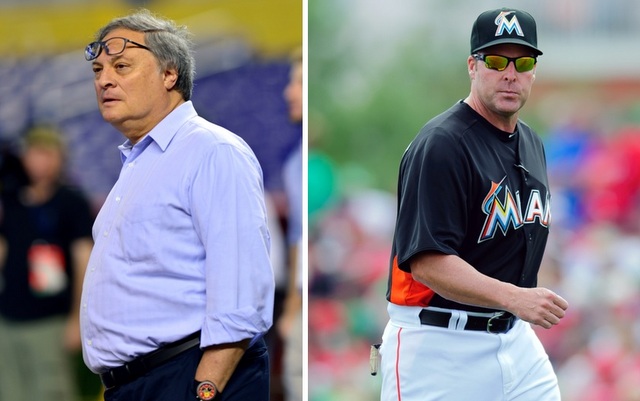 More MLB: Scoreboard | Standings | Probable Pitchers | Sortable Stats | Odds
Marlins owner Jeff Loria has done plenty to destroy baseball in South Florida, particularly by alienating fans with massive fire sales every few years. Nowadays, he is actively sabotaging rookie manager Mike Redmond by meddling with the team's lineup and pitching plans. From Jeff Passan of Yahoo!:
Miami Marlins owner Jeffrey Loria personally mandated the lineup card change that flip-flopped starting pitchers Jose Fernandez and Ricky Nolasco in a doubleheader Tuesday and left Marlins players furious with his continued meddling, three sources with knowledge of the situation told Yahoo! Sports.

(snip)

Rookie manager Mike Redmond delivered the news to Nolasco about 2½ hours before the first game against the Minnesota Twins, and it did not go over well with him or his teammates. Standard protocol for doubleheaders is that veterans choose which game they want to pitch. Not only did Loria ignore that and further alienate Nolasco, the Marlins' highest-paid player who has previously requested a trade, he sabotaged Redmond less than 20 games into his managerial career.
Redmond is in a very tough spot here, and the season is not even a full month old. Being a rookie manager is hard enough, especially when it comes to establishing credibility and relationships in the clubhouse. Now his boss is dipping his toes into the club's day-to-day on-field operations. It has to be embarrassing for Redmond, really.
For what it's worth, Loria has tried to tinker with the team's lineup before, specifically with manager Ozzie Guillen last year. Guillen simply ignored him, but he was a veteran manager. Joe Girardi won the NL Manager of the Year Award in 2006, his rookie season as a skipper and his lone season with the Marlins. Girardi and the club parted ways the following offseason because of disagreements between him and his superiors.
The Marlins are a bad team -- baseball's worst record (5-17) and fewest runs scored (57) -- and that makes things even more complicated. The players are unhappy, Redmond is probably unhappy, the fans are unhappy, basically everyone is unhappy. Things are tough enough without Loria's meddling, but I guess we shouldn't expect anything less from the worst owner in sports.
Harrison has a thing for ending no-hit bids

Hill was close to perfect across regulation but it turned out to be all for nothing in the...

Plus Hank Aaron weighs in on Colin Kaepernick, Trevor Rosenthal hits the DL, and more
Davis should help fortify the Red Sox outfield

Whether or not Mike Matheny will adjust is to be seen

Hammerin' Hank wants to see Kaepernick get another shot in the NFL