Marlins' Stanton megadeal is in place: $325M, 13 years, early opt out
Marlins superstar Giancarlo Stanton will be with the Marlins at least into his 30s on a landmark deal. While there's no official word yet, the press conference is expected sometime this week.
Superstar outfielder Giancarlo Stanton and the Miami Marlins now have a deal in place for a record $325 million over a record 13 years, sources connected to the team say. The team will announce the deal on Wednesday morning.
That landmark contract keeps the beloved Stanton in Miami at least through his 20s and maybe until he's 38, and brings credibility to a franchise that's seemed cash-strapped and beleaguered at times but appears to be on the upswing now.
Stanton, 25, will receive a crucial early opt-out clause in addition to a full no-trade provision, according to those sources. According to the terms of this deal, which is the largest in North American sports history -- eclipsing Miami product Alex Rodriguez's $275 million Yankees contract -- Stanton will be able to opt out not long after he turns 30, giving him a chance to set a second contractual record, as A-Rod did at age 32, via his opt out seven years ago.
CBSSports.com last Friday reported the sides were on the verge of completing this record deal, and while there is still no official word from the team, and perhaps nothing's been signed yet, there is a clear understanding the deal will be finalized and Stanton will remain a Marlin for at least the next five or six years. FOXSports.com first reported the sides were talking about a deal for $300 million or more.
Stanton will be paid $107 million for the first six years of the contract, after which he can opt out. The final seven years of the contract will be for $218 million.
A press conference to celebrate this shocker of a contract is expected to be held in the middle or later part of this coming week, perhaps Wednesday or Thursday. Stanton, who splits time between his native Los Angeles and Miami, was seen at the Florida State-Miami football game Saturday night, though when quizzed by Miami-based reporters he didn't explain his reason for being in Miami. Officially, the word was he is in Miami a lot now and was simply having a night out with former Marlins teammate Ricky Nolasco.
Marlins owner Jeffrey Loria didn't respond to a message, and Stanton's agent, Joel Wolfe, declined to comment.
The deal is quite obviously a home run for Stanton, who led the National League in homers with 37 (and also led with 299 total bases, a .555 slugging percentage and 24 intentional walks) despite missing the final couple weeks of the season after being hit in the face by a fastball from Brewers right-hander Mike Fiers.
But the deal is also a homer for the Marlins, who have been straining to gain credibility after several seasons with unusually low payrolls, losing records and weak attendance despite playing in beautiful new Marlins Park the last three seasons.
How out of the norm is this deal for the Marlins? Well, they previously had a puny $8 million in total future payroll obligations (2016 or later), according to mlbtraderumors.com, by far the lowest in the majors, and now that post-2015 total will rise by more than $300 million (and by close to 40 times) once this deal is officially in the books. The Marlins, in fact, entered the 2014 season with baseball's second lowest payroll ahead of only Houston, at $47 million, with Stanton accounting for the highest salary on the team, at $6.5 million.
The Marlins have absorbed some bad publicity over the years including two winters ago when they traded shortstop Jose Reyes and starting pitcher Mark Buehrle only one year after signing them to surprise big deals (Reyes' $106 million contract was a Marlins record until Stanton's triples it) -- including even a bit of bad press from Stanton himself. The quiet young man sent a loud message when he tweeted that he was "[ticked] off" following the trade of those stars, though true to his character Stanton played the team guy he is after sending that clear message right after the trade.
Even though Stanton invariably wore a smile throughout a surprisingly nice season for the Marlins (105 RBI and a .288 batting average), there was a lot of skepticism about whether Miami would be able to lock him up. Stanton had deferred contract talks when approached by Marlins higher-ups about a long deal last winter. But as Stanton explained at the time, he simply sought more understanding about the direction of an organization that's won two World Series championships, including the second one in Loria's first year as owner, but has posted losing records in the vast majority of its seasons and is known for fire sales (they had a doozy of a sale following the 1997 championship season, as well, though a different regime was in place then).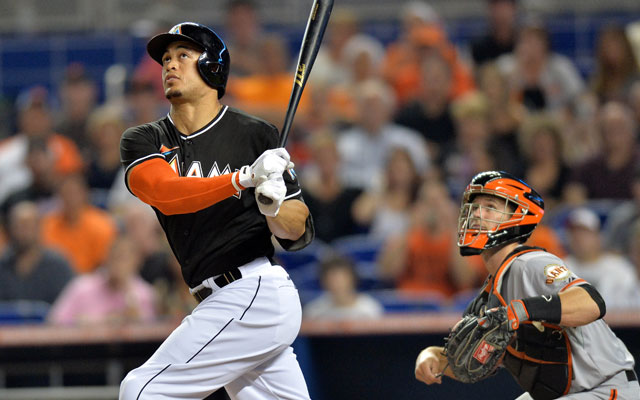 The Los Angeleno is said to love Miami (he lives downtown, not too far from Marlins Park), but most important, he started to like what was going on with the team. Word is, he has great respect for second-year manager Mike Redmond and first-year GM Dan Jennings, who together led a Marlins revival this year that had the young upstart team on the cusp of the NL wild-card race, at least until Stanton's unfortunate beaning in Milwaukee in mid-September.
People close to Stanton consistently have made clear that the most important thing to him is to have a chance to win perennially, and with other fine young players on the team, such as outfielders Christian Yelich and Marcell Ozuna, shortstop Adeiny Hechavarria and especially superstar starting pitcher Jose Fernandez, the near-term future looks promising, at the least. The Marlins have said they will try to lock up these other young stars, though word is they have low expectations for being able to do so in Fernandez's case.
Of course, it didn't hurt that the Marlins are giving Stanton the richest contract in baseball history, beating A-Rod's record deal by a neat $50 million (though the embattled Rodriguez still has a chance to earn some of his $30 million in home run milestone plateaus). Rodriguez currently holds the record for biggest baseball signing, though Tigers superstar Miguel Cabrera's total guarantee hit $292 million after he signed a $248 million, eight-year extension in spring training.
Sometimes for that reason Cabrera's $292 million guarantee is listed as the biggest deal, though by those standards Rodriguez's deal technically could be listed as $443 million since it was in a way an extension on his original $252 million following his own opt-out of the Rangers deal  after seven years.
Stanton will have benefit of being able to opt out not long after turning 30, perhaps allowing him to set a second contractual record assuming his career path continues the way it's going. It appears likely he'll be able to opt out after the 2019 season, and one extra reason beyond his outsized talent that he might have a chance at another contractual record is that it happens to be one year before Angels superstar Mike Trout will have the opportunity to hit free agency, following the 2020 season.
Unlike with Reyes and Buehrle, Stanton will be able to control his locale, via a rare Marlins no-trade provision. The team wouldn't even offer a no-trade clause to all-time great Albert Pujols when they were unsuccessfully chasing him as a free agent three winters ago and offering him $200-million plus, and according to the Miami Herald, the only Marlins player ever to have a no-trade clause in this regime was Javier Vazquez, a Miami resident who must have insisted upon it.
While Stanton, the runner-up to Clayton Kershaw in the 2014 NL MVP race, will be the one with the option, and the Marlins are thrilled to potentially have him 13 more seasons, the deal might not turn out to be nearly as pricey as it seems for the historically low-spending Marlins since there's probably a decent chance Stanton opts out much earlier than that -- though, who knows, he has surprised us before.
Where might the Orioles third baseman land?

Kinsler will slot in at second base for the Angels

The Marlins got a better return for Ozuna than Stanton or Gordon
The two teams are going about things in very different ways

The Marlins are indeed in teardown mode under new ownership

The Marlins still have more attractive pieces