Marlins target four possible spots for upgrade, and may move pitching
Miami, coming off a 100-loss season, will try to acquire bats to surround star Giancarlo Stanton.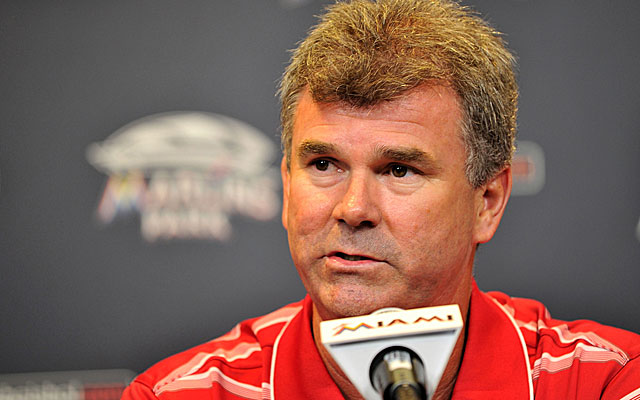 ORLANDO, Fla. -- When someone recently suggested to a Marlins person that maybe they could just "tweak" a couple things to get better, the Marlins person said he thought to himself, "Tweak? We lost a hundred games. If we tweak, we might lose 98."
No, the Marlins have set out to make some decent-sized changes with their eyes on four of the five infield spots (counting catcher). Third base and catcher are definites, while first base and second base are maybes.
"We're trying to put the bricks in place one at a time," is the way new general manager Dan Jennings put it.
The outfield bricks are all staying, he said, and that includes star right fielder Giancarlo Stanton, who remains popular with other teams, as welll. Asked about Stanton, Jennings offered only two words, "A Marlin," settling the ongoing controversy quickly.
They obviously need to build an offense around Stanton, though, and Jennings has mentioned Mark Trumbo and Will Middlebrooks as possible players of interest. Jennings also mentioned that first baseman Logan Morrison should come back healthy for the first time in three years, though someone else connected to the team suggested that that's still a spot they could look at for upgrade.
They all like Jeff Mathis as the defensive part of a platoon behind the plate, but they'd still need someone to share the position with him. They like second baseman Donovan Solano but wonder if he might be better off as a utility player. Third base is a hole, at least until last year's first-round pick Colin Moran is ready.
"Bats. We are definitely going to look for bats," Jennings said.
The Marlins are said to have "a little" spending money, which is a lot more than they had last year. But the main route to those bats is likely to be trades.
"We feel like we have a surplus of pitching ready or close to ready," Jennings said. 'We'll probably deal from a position of strength -- move pitching to get a bat."
The projections continue to favor an Astros-Dodgers World Series

The story centers around a building in Chicago, where Billy Jurges was shot by a jilted lo...

From 1 to 25, the L.A. Dodgers have the squad to overcome the pitfalls of October baseball
After Tuesday night's win over the Cubs, the Dodgers are now 6-0 in the 2017 playoffs

Los Angeles beat Chicago once more in Game 3 of the NLCS in Chicago

The 2017 World Series begins Oct. 24