Marlins to recreate 'the throw' with Rodriguez, Conine Saturday
Instead of a first pitch with Ivan Rodriguez Saturday, the Marlins are going to recreate the finish to one of the great games in franchise history.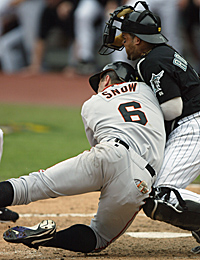 Remember this? (Getty Images)
The Marlins are doing something pretty cool Saturday. They are going to honor Ivan Rodriguez before their game, but instead of a ceremonial first pitch, they are going to have Jeff Conine throw Rodriguez a ball from left field (via Fish Tank blog).
Why?
Remember the end of the Giants-Marlins NLDS in 2003? The Marlins squeaked into the playoffs as a wild card and had the 100-win Giants on the brink of elimination in Game 4.
The Marlins took a 7-5 lead into the bottom of the ninth and brought in closer Ugueth Urbina. The Giants scored one and had runners at first and second when Jeffrey Hammonds singled to left field.
J.T. Snow came around third and Conine fired a laser from left, beating Snow home. Snow then bowled over Rodriguez at home plate in an attempt to jar the ball loose, but it didn't work. The lasting image was Pudge holding up the ball, screaming in celebratory fashion with an insanely intense look on his face.
Unfortunately, I doubt there will be a baserunner trying to level Pudge, but this is still a very cool idea.
For more baseball news, rumors and analysis, follow @EyeOnBaseball on Twitter, subscribe to the RSS feed and "like" us on Facebook.
Maria made landfall as a Category 4 on Wednesday

The players are trying to do their job and don't want to see anyone hurt

The child is receiving medical attention at an area hospital, the Yankees said in a statem...
Brantley has not played since August 8 due to an ankle injury

Plus the Red Sox can lock down a postseason spot and all you need to know from the world of...

Neshek called Greinke an 'ahole' and a 'turd' on a message board