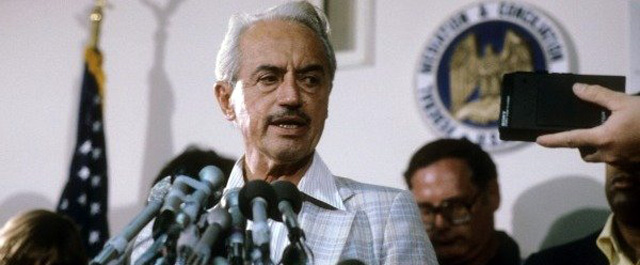 Miller, as the longtime leader of the MLBPA, transformed the economics of Major League Baseball. (AP)
Marvin Miller, former executive director of the Major League Baseball Players Association, has died, the MLBPA announced Tuesday. He was 95.
Miller, the first full-time union executive, was one of the most influential nonplayers in baseball history. The Associated Press reported that Miller died at his Manhattan home at 5:30 a.m., according to his daughter, Susan Miller. He had been diagnosed with liver cancer in August.
More on Marvin Miller
Commentary

Scott Miller
Marvin Miller was equal parts economist, union man, agitator, conscientious objector, revolutionary and pit bull.
Read >>
Related links
With Miller at the helm from 1966 through 1983, the players union became one of the most powerful collective bargaining groups in the United States. Under Miller, players negotiated the first collective bargaining agreement in 1968. In 1970, Miller helped negotiate the players' rights to arbitration in order to resolve grievances. Then, of course, there was the most important and long-lasting aspect of Miller's -- free agency. Miller likened the reserve clause, which tied a player to the team holding his contract, as little more than 20th century slavery.
"I had seen some documents in my life, but none like that," Miller said in 1966 after reading a Uniform Player's Contract. He decided the reserve clause had to be tested. It was, when outfielder Curt Flood, traded by St. Louis, refused to report to Philadelphia in 1969.
Three years later, the U.S. Supreme Court upheld the validity of the reserve clause by a 5-3 vote, keeping intact baseball's antitrust exemption.
"Marvin possessed a combination of integrity, intelligence, eloquence, courage and grace that is simply unmatched in my experience," said Donald Fehr, a successor to Miller as union head.
"Without question, Marvin had more positive influence on Major League Baseball than any other person in the last half of the 20th century."
Miller's ascension to the top echelon among sports labor leaders was by no means free from controversy among those he represented. Many players opposed his appointment as successor to Milwaukee Circuit Court Judge Robert Cannon, who had counseled them on a part-time but unpaid basis.
Miller overcame the opposition, however, due in part to his personality.
"Some of the player representatives were leery about picking a union man," Hall of Fame pitcher and former U.S. Sen. Jim Bunning, a member of the screening committee that recommended Miller, recalled in a 1974 interview. "But he was very articulate ... not the cigar-chewing type some of the guys expected."
Miller recalled that owners "passed the word that if I were selected, goon squads would take over the game. They suggested racketeers and gangsters would swallow baseball. The players expected a dese, dem and dose' guy. The best thing I had going for me was owner propaganda."
Miller, who retired and became a consultant to the union in 1982, led the first walkout in the game's history 10 years earlier, according to the AP. On April 5, 1972, signs posted at major league parks simply said "No Game Today." The strike, which lasted 13 days, was to be followed by a walkout during spring training in 1976 and a midseason job action that darkened the stadiums for seven weeks in 1981.
According to Miller's biography page on MLB.com, "Club owners had ruled baseball with an iron fist for nearly a century prior to Marvin Miller's appointment as the MLBPA's executive director. Players had no ability to choose their employer as they were tied to their original club by a 'reserve clause' in every player contract that provided for automatic renewal. Salaries and benefits were low, working conditions abysmal."
Hank Aaron once said Miller was "as important to the history of baseball as Jackie Robinson," according to Baseball-Reference.com.
As an example of how the players' lots improved after all of Miller's breakthroughs, the league-minimum salary before 1968 was $6,000. In 2012, the league minimum was $480,000. While wages across the board have generally increased in the United States, that's an astounding leap.
In 1997, the MLBPA created the Marvin Miller Man of the Year Award, to honor "the player in either league whose on-field performance and contributions to his community inspire others to higher levels of achievement." Chipper Jones of the Braves was the 2012 winner. Past winners of the award include Michael Young (twice), Curtis Granderson, Torii Hunter, Albert Pujols and Jim Thome (twice).
Current union executive director Michael Weiner has issued the following statement:
"It is with profound sorrow that we announce the passing of Marvin Miller. All players -- past, present and future -- owe a debt of gratitude to Marvin, and his influence transcends baseball. Marvin, without question, is largely responsible for ushering in the modern era of sports, which has resulted in tremendous benefits to players, owners and fans of all sports.

"It was an honor and a privilege to have known Marvin. The industry has never witnessed a more honorable man, and his passion for helping others and his principled resolve serve as the foundation of the MLBPA to this day. On behalf of all Major Leaguers and MLBPA staff, I extend my heartfelt sympathies to Marvin's daughter, Susan, son, Peter, their families and Marvin's many friends and admirers. Marvin was a champion among champions, and his legacy will live on forever."
MLB commissioner Bud Selig has issued the following statement:
"Marvin Miller was a highly accomplished executive and a very influential figure in baseball history. He made a distinct impact on this sport, which is reflected in the state of the game today, and surely the Major League players of the last half-century have greatly benefited from his contributions. On behalf of Major League Baseball and the 30 Clubs, I extend my deepest condolences to Marvin's family, friends and colleagues."
The Associated Press contributed to this report.
For more baseball news, rumors and analysis, follow @EyeOnBaseball on Twitter, subscribe to the RSS feed and "like" us on Facebook.