Masahiro Tanaka's record 30-start unbeaten streak ends on Saturday
Right-hander Masahiro Tanaka took a loss in Game 6 of the Japan Series on Saturday, ending his record unbeaten streak.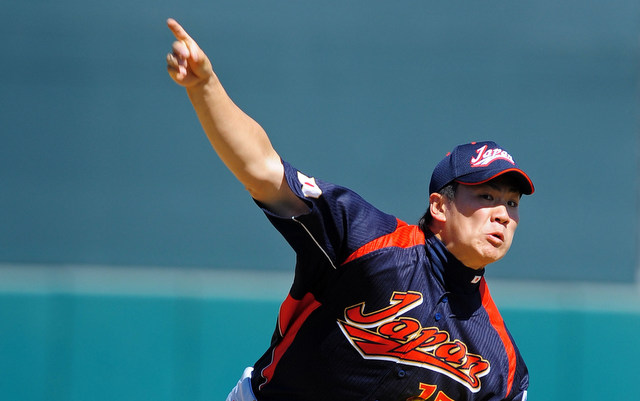 For the first time in 14 months, Rakuten Golden Eagles right-hander Masahiro Tanaka took a loss on Saturday. The Yomiuri Giants pulled off a 4-2 win in Game 6 of the Japan Series to force a Game 7.
Tanaka allowed the four runs on 12 hits and one walk while striking out seven in the start. He threw 160 pitches in the complete game loss, his fourth complete game in five postseason starts. Former Mariners infielder Jose Lopez tagged him for a two-run homer in the fifth inning.
The loss snapped a 30-start unbeaten streak for Tanaka. His last loss came on August 19, 2012 against the Seibu Lions. He'd gone 24-0 in the regular season this year, pitching to a 1.27 ERA and 0.94 WHIP in 212 innings.
The 30-start unbeaten streak is a professional baseball record. Tanaka bested Carl Hubbell's record of 24 consecutive starts without a loss back in September. Hubbell set the record in 1936-37.
Tanaka, who turned 25 yesterday, is expected to be posted for MLB teams after the postseason, as our Danny Knobler reported back in March. It is widely believed he will be the most expensive international import in history.
The Rangers have a lot riding on Mike Minor and Matt Bush

Though the process is far from complete, taxpayers got good news Thursday

Dickerson had been designated for assignment by the Rays last week
Honeywell is considered a top 15 prospect overall in baseball

Troy Tulowitzki is not a pitcher, for those of you who don't know

It will be MLB's 15th game abroad and the A's third in 12 years