Masterson, Indians extension talks fall through; free agency awaits
Justin Masterson made proposals for two and three years, and the Indians countered with a two-year offer that included a third-year team option.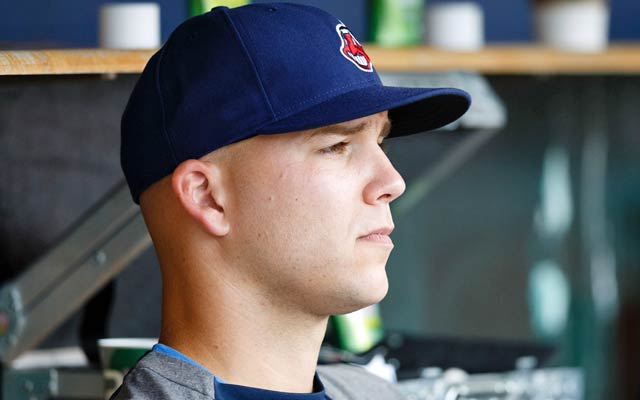 More MLB: Spring training | Free agency tracker | Latest news & notes
Talks between Indians star pitcher Justin Masterson and the team have broken off, and it appears that Masterson will be headed for free agency at year's end.
Masterson a little more than two weeks ago proposed two short-term deals to the Indians, one for three years and another for two, with both deals having a value of about $17 million per year. The Indians responded Thursday by countering with an offer of two years and a team option, believed to be for something in the range of $14 million per year on average.
Rivals who heard about Masterson's proposal generally saw it as reasonable, considering the Reds signed a comparable pitcher -- Homer Bailey -- to a $105-million, six-year deal (counting his arbitration year). Said one, "I'd have signed off on that in a second."
The Indians, however, are said to have explained that their young talent on the verge of arbitration eligibility prevented them from agreeing to a deal with an AAV in the proposed range. They also suggested some cold feet since their record $57-million, four-year Travis Hafner deal didn't work out.
The Indians at one point asked Masterson, who will make $9.6 million this year, if he was willing to defer some of the money due to their other obligations, and the pitcher, who has thrown 14 straight scorless innings this spring, agreed to do so.
The Indians' offer today was similar to their previous proposal. That seemed to make Masterson's choice easy. He is 28 and appears headed for free agency, where he will make much more money than he proposed -- though he has loved playing for Terry Francona in Cleveland.
"We tried to work with them and be flexible, and we tried to look at the situation given Justin's desire to play for the Indians," Masterson's agent Randy Rowley said. "We were happy to do something that made sense. We tried to be flexible and sensitive."
The Indians have suggested to Masterson they intend to extend the qualifying offer at year's end. However, their two-year offer was thought to be for slightly less than the qualifying offers. The qualifying offer was $14.1 million this past year and may be about $15 million this coming year.
The former AL MVP has been one of baseball's best players in recent years

The free-agent slugger might join the Red Sox after all

Harper would prefer if reporters respect his wishes
Evan Longoria, Chris Archer, and Kevin Kiermaier aren't happy with the team's direction

First baseman Justin Bour will visit the baseball team this week as well

Jesus Luzardo was supposed to work out at his old high school the day of the shooting