Masterson isn't insisting on long deal, raising Indians' chances
Cleveland right-hander Justin Masterson might be amenable to a deal as short as three years, depending on the price.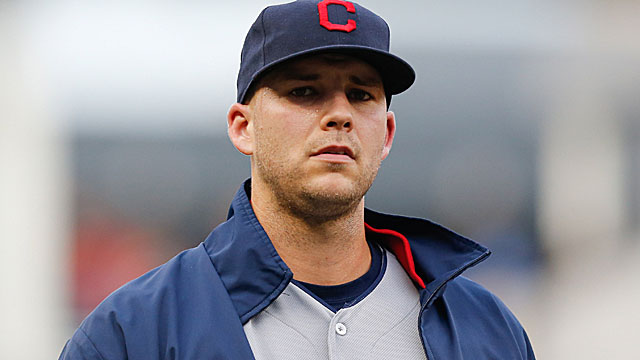 MORE: Spring Training | Scoreboard | FA tracker: position players | FA tracker: pitchers
Indians star pitcher Justin Masterson named his price in contract discussions with the team over the weekend, and word is, he could be amenable to a shorter-term deal than the free-agent market would likely warrant, perhaps even as little as three years, depending on the price.
Masterson's agent, Randy Rowley, suggested a figure in talks Saturday with the Indians, and while that number isn't known, and there's work to do, there is said to be a decent feeling among Indians people that they may be able to work something out with the right-hander, if not immediately then perhaps by the end of spring. Indians GM Chris Antonetti declined comment.
The Indians have signaled to Masterson, who went 14-10 with a 3.45 ERA and a league-leading three shutouts, that they have no intention of paying anywhere in the ballpark of Homer Bailey's eye-popping $105-million, six-year extension. Paul Hoynes of the Cleveland Plain Dealer suggested the Indians were offering something in the three-to-four-year range.
If so, there could be common ground, at least on the length. Rather than cut off talks after hearing the Indians weren't in break-the-bank mode, Masterson has kept discussions going, maintaining hope by not insisting on a deal of five or six years. The Indians' biggest contract was the $57-million, four-year deal they gave Travis Hafner in 2007. Cleveland generally has struggled to keep stars once they've gotten to within a year of free agency, as Masterson is.
"We're trying to be sensitive to something that makes sense … We've been sensitive, flexible and willing to work with them. But we can't be … a sellout," Rowley said.
Masterson is motivated to stay in Cleveland by his admiration for manager Terry Francona, his strong feelings about his teammates and family situation, Rowley said. He also doesn't mind the idea of becoming a free agent again at 32 or so; thus the willingness to consider something short-term. But of course, that doesn't man they'd take any deal.
The Indians have put themselves in position to try to lock up Masterson, who's a free agent after the year, by significantly increasing their revenues with their playoff season in 2013. But apparently they still don't have the spending power of the cross-state rival Reds, who gave Bailey, a pitcher with comparable numbers and stuff, that nine-figure deal.
That contract may have boosted Masterson's potential free-agent target price, but it hasn't moved the Indians. Sources say they have pointed out during negotiations that his free agency may be impacted by the likely decision to slap Masterson, who is to make $9.8 million this year, with the qualifying offer. Agents are hearing that more and more and sometimes refer to it as the qualifying offer "threat."
Rowley didn't act especially threatened. "It didn't affect [Jacoby] Ellsbury or [Shin-Soo] Choo. If you're one or two at your position among free agents, or even three,  it won't have that much impact," Rowley said. "I would wager a bet every team will need pitching."
 Masterson, who turns 29 later this month, limited AL hitters to a league-low .312 slugging percentage (Max Scherzer was second at .329) last year. So he's in good position, one way or the other.
"We're nine months away … The burden's on them," Rowley said. "We don't have to do anything."
Though, with almost a month still to go in spring, there remains hope here.
Despite an awful month, the Dodgers are again NL West champions

The record of 38 previously belonged to Hall of Famer Frank Robinson

The report also says that Jeter had outgoing president David Samson do the firing
This wasn't a traditional hidden ball trick, but the Blue Jays pulled it off

The Tigers essentially fired Brad Ausmus on Friday, but things are going to be ugly for a...

The club made the announcement on Friday