Masterson made reasonable offers; Indians can't afford to ignore him
Ace Justin Masterson is still waiting to hear back on his proposals to the Indians.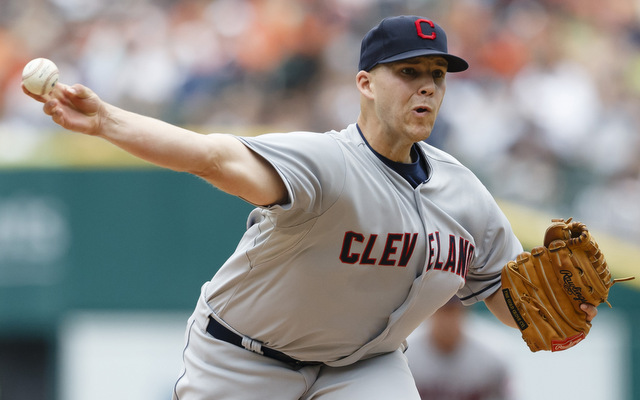 MORE: Spring Training | Scoreboard | FA tracker: position players | FA tracker: pitchers
A couple weeks ago, All-Star Indians pitcher Justin Masterson made the team a couple contract proposals that are said to be pretty reasonable (or even very reasonable, according to one unbiased party familiar with the offers).
Meanwhile, Masterson has continued putting up zeroes since. He had a four-inning, no-hit outing against the Diamondbacks two starts ago, then followed that up with an eight-strikeout, five-inning outing against the Cubs last time out. Now he has 14 straight scoreless innings this spring.
Yet, as of late Tuesday afternoon, Masterson still hadn't heard back from the team.
The offers still stand. And they look more reasonable by the start.
Perhaps the Indians are merely being cautious, waiting for the last moment or two in spring training before signing off on one of the relatively short-term extension offers, one of which is said to be for three years. Considering the rash of pitching injuries around the game, maybe the Indians just want to be sure before taking the deal.
In any case, the Indians should probably act on one of the offers, which do sound more than fair. Beyond the fact neither offer is believed to be particularly long, word is they are for an AAV (average annual value) below Homer Bailey's $19M AAV in the Reds pitcher's $105-million, six-year deal. It is believed Masterson, 28, made a second alternative offer, one for similar money and a slightly different length.
The Indians made clear very early they couldn't match Bailey's contract, even though the two pitchers are pretty comparable, and Masterson seems to be trying to accommodate them by offering to stay for fewer years at (slightly) less dollars. While it isn't known exactly how much Masterson requested, a fair estimate could be in the range of $50 million for three years, which would put him at just about $60 million for four years counting his agreed-upon salary of $9.7625 million for 2014.
The sides hope to get something done before Opening Day, when Masterson will start off the Indians' season, though it isn't known whether that's a hard-and-fast deadline. If so, the Indians have less than two weeks to go.
Masterson, 14-10 with a 3.45 ERA last year, will survive nicely if nothing gets done. He could very likely cash in big as a free agent next winter. In a strong starting pitcher market at the top, as od now he'd be behind Max Scherzer, James Shields and Jon Lester (who's seen as likely to re-sign). Along with Scherzer he'd be the youngest of the bunch.
The Indians have told him they'll extend the qualifying offer after the year, which may inhibit his free agency a bit. But he should still be a big hit if he's free. Given the scarcity of very good starting pitchers, one rival GM opined that he didn't even think the qualifying offer would affect Masterson.
The Indians made the big leap to the playoffs last year after bringing in name manager Terry Francona, name players Nick Swisher and Michael Bourn and deepening their roster of viable starting pitchers. However, they don't have a great record keeping their best starting pitchers. They traded away CC Sabathia and Cliff Lee when they couldn't afford to keep them.
But they should be able to afford Masterson. The Indians' revenues are up significantly off their nice 2013 season.
The reality is, they can't afford to lose him.
While the Indians have built decent pitching depth, Masterson is the only current Indians pitcher who qualifies as a reasonable ace and solid Opening Day option. Those kinds of pitchers aren't easy to come by, especially ones who are willing to take a hometown discount to stay in Cleveland.
Masterson is said to love Francona, his teammates and the area. This looks like a chance for the Indians to save money more than spend it.
Masterson's agent Randy Rowley declined comment, and Indians GM Chris Antonetti has consistently declined comment.
The Indians don't have to say anything publicly, of course. But this is a deal that seems too good for the Indians to ignore.
Ferrell somehow avoided going to the ground

Plus, we saw a possible AL Wild Card Game preview in the Bronx and lots more from around M...

The Pirates disappointed in 2017. Will 2018 be any different?
Let's see how SportsLine forecasts the race for MLB's 10 playoff spots

This has only previously happened twice in history in non-strike seasons

Plus the AL West champ has been crowned and more