Mat Latos reveals he has been pitching injured since June 30
Reds starting pitcher Mat Latos has been pitching through an abdominal strain since June 30, he says.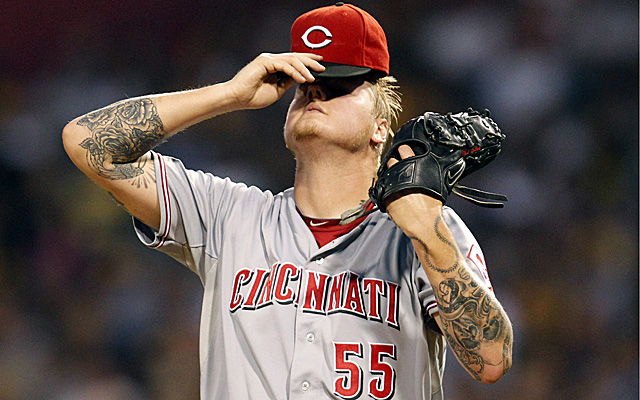 More MLB: Scoreboard | Standings | Probable Pitchers | Sortable Stats | Odds
After Mat Latos' relatively rough outing against the Pirates last time out (6 IP, 4 ER, so it was hardly a disaster -- plus, the Reds won the game), there was apparently some fan backlash directed at his wife, Dallas, on Twitter.
Latos wasn't pleased, and in his reaction, he revealed he has been pitching injured for a while.
"It was Pirates fans and Cincinnati Reds fans," Mat said. "Let's be honest. I pitched real well all year and I hear nothing but good things. But I pitched against the Pirates and I have a bad start. [With] certain Reds fans – I'm not allowed to have that. Let alone, no fan knows that I've been dealing with an injury since the Texas Rangers game. And I've been pitching with it. So I've been pitching the way I've been pitching, but I've been pitching hurt."

Latos was OK with the injury being written about.

"It doesn't really matter to me," he said. "I could care less because I'm not trying to win over fans or anything like that. I've been pitching with an abdominal strain since the Texas game. I think it was at the end of June."
It was June 30 when Latos started a game in Texas. Since then, he's 7-4 with a 3.46 ERA and 1.25 WHIP with 71 strikeouts in 93 2/3 innings. Before and including that start, he was 7-2 with a 3.03 ERA and 1.20 WHIP and 109 strikeouts in 110 innings.
Other than a noticeable dip in strikeout rate, the ERA and WHIP are a bit worse, but Latos hasn't been significantly worse. He hasn't missed a start and is continuing to put together a good season.
It's pretty unreasonable to expect a pitcher to be Clayton Kershaw every time out. Even Kershaw has bad outings. But hey, that's what social media tough guys do. They should be ignored.
The only takeaway that matters here is that Latos is saddled with an abdominal injury. He has weathered the storm thus far, though, so it's possible he can work through it the rest of the way.
Sunday's MLB roundup features the D-Backs clinching a postseason spot and the Mariners going...

The 2017 season has been, by far, the worst season of Cabrera's career

The Mariners were eliminated from postseason contention with Sunday's loss
Maxwell became the first MLB player to kneel during the national anthem Saturday

The Blue Jays are not expected to bring Bautista back next season

The Dodgers have already clinched the NL West title, so the D-Backs will be a wild card te...