Matsuzaka, released by Indians, expects opportunity in majors soon
Daisuke Matsuzaka exercised an opt-out clause in his contract with the Indians on Tuesday because he believes he will have an opportunity that will lead him back to the majors soon. A new deal likely will come within the next couple of days.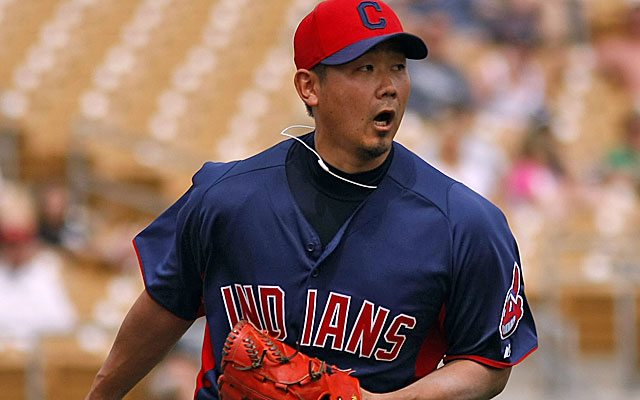 ANAHEIM, Calif. -- Daisuke Matsuzaka asked for and was granted his release from the Indians on Tuesday and is expected to sign a deal within the next day or two that can get him to the major leagues.
"We didn't have an immediate opportunity for Dice-K," Indians general manager Chris Antonetti said here Tuesday afternoon. "He was throwing well at Triple-A, and he thought he may have a better opportunity."
Antonetti said he did not know that Matsuzaka had something lined up immediately. A source with knowledge of the situation indicated that a handful of teams have been in touch with Matsuzaka's agent, Scott Boras.
Matsuzaka had an opt-out clause in his Indians' deal in April, but the combination of his return from Tommy John ligament transfer surgery followed by an oblique strain delayed his return. The Indians and Boras then agreed to move the opt-out clause to July, but when Matsuzaka still was not major-league ready, the two sides again moved it back to August.
The veteran right-hander went 5-8 with a 3.93 ERA over 103 1/3 innings pitched in 19 starts at Triple-A Columbus. Antonetti indicated that he believes the pitcher is close to major-league ready now, but rookie Danny Salazar (1-1, 4.08 ERA), who started Tuesday night here against the Angels, "is continuing to earn a spot in the rotation," the GM said.
Matsuzaka, who helped lead the 2007 Red Sox to a World Series title, is believed to have possibilities both with contending clubs – one or two of which is looking at shutting young pitchers down for the season, thus opening an opportunity -- and from a club that is out of it now but looking toward 2014.
The Dodgers, seeking an elusive World Series title, suffer an early blow when Turner is hit...

Baseball's biggest rivalry could go overseas in 2019

Ronald Acuna deserves to be on the Opening Day roster
The Yankees might benefit from not having Ellsbury around and here's why

Unintended or intended consequence? You decide

Milwaukee players re-enacted some scenes in honor of the baseball classic's 25th anniversa...