Matt Garza going strong as trading season looms
In his last three starts, Cubs trade candidate Matt Garza has an 0.82 ERA and more strikeouts than innings pitched. His trade value is rising.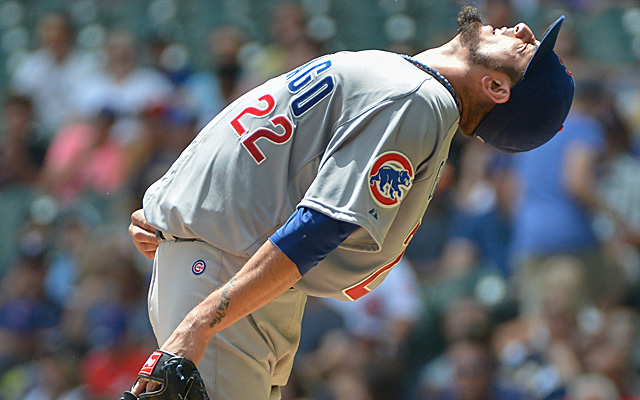 More MLB: Scoreboard | Standings | Probable Pitchers | Sortable Stats | Odds
We're just a few days from the calendar turning to July. In Major League Baseball, that means the All-Star break is right around the corner and that is followed by a few weeks of heavy trade talks. With a second wild card and a good amount of parity throughout the majors, there don't seem to be a ton of sellers just yet.
But we know the Cubs are sellers. We also have a pretty good idea Matt Garza is an obvious trade candidate. He's right in the middle of his prime at age 29, has found decent-to-good postseason success (2-1 with a 3.48 ERA and 1.29 WHIP in five starts for the Rays), is a free agent after the season and has found his name in trade rumors ever since the Theo Epstein administration took over.
If the past few outings are any indication, Garza is bound to become a hot commodity by late July.
On Thursday afternoon in Milwaukee, Garza worked seven strong innings, giving up only one run while striking out 10. He's now 3-1 with a 3.83 ERA this season, but the latter number is badly skewed by one disastrous outing.
On June 11, the Reds tagged Garza with nine runs on nine hits. He has only had eight starts all season, so it's easy to see how that could do a number on his stats. If we remove that outing, here's Garza's line in seven starts:
3-0, 2.44 ERA, 1.04 WHIP, 44 K, 44 1/3 innings
The outing obviously counts, and every team in trade talks will pay mind to it. On the flip side, one blip on the radar does not a season make and every team looking at him knows that, too.
Plus, since Garza's awful outing on June 11, he has rebounded in a big way. Here's what he's done in his three most recent starts:
2-0, 0.82 ERA, 0.91 WHIP, 23 K, 22 innings
Since coming to the Cubs, Garza has been a good -- but not great -- starting pitcher. Assuming he stays healthy and keeps putting up quality starts like he has for most of the season, he's going to draw tons of interest in the last two weeks of July.
This would undoubtedly be the worst trade in Miami Marlins history

The Pirates recently shipped Gerrit Cole and Andrew McCutchen to Houston and San Francisco,...

Surely, Martinez and his agent are holding out for more
The reliever had a very good 2017 season with the NL Central champs

We don't need to discuss Chipper's Hall of Fame case, so let's have fun instead

Dioner Navarro still hopes to return someday