Matt Garza tells Johnny Cueto to 'grow the hell up'
After Cincinnati's Johnny Cueto threw a pitch over the Cubs' David DeJesus' head on Sunday, Chicago's Matt Garza said Cueto needs to learn to 'grow the hell up.'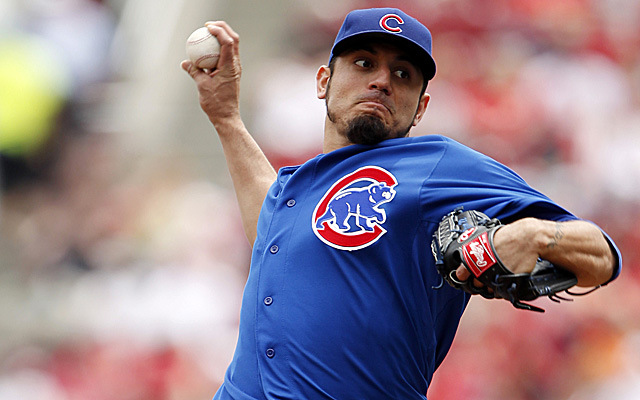 More MLB: Scoreboard | Standings | Probable Pitchers | Sortable Stats | Odds
In Sunday's Cubs-Reds game, Cubs starter Matt Garza hit Reds third baseman Todd Frazier with a pitch following a Jay Bruce home run in the fourth inning. In the sixth inning, Reds starter Johnny Cueto threw a pitch over the head of Cubs leadoff man David DeJesus. And after the game, Garza went off on Cueto to reporters.
"That just goes to show, don't wake a sleeping dog," Garza said (AP). "That's immature on his part. ... If he wants to say something to me, he knows where my locker is. If he's got a problem, he can throw at me, and I'll do the same. Hopefully, he learns to grow the hell up. I hope he hears this. I really don't care. I don't know if there's anything between him and [DeJesus], but I'll stop it. I don't think you intentionally try to injure somebody. I hope the league looks at it. I don't want him suspended or anything. I hope his players talk to him and show him the way it is."
Cueto had left the clubhouse before reporters got a chance to check up with him, but Reds manager Dusty Baker had a response.
"Take care of it, then," Baker said (cincinnati.com). "You know what I mean? I mean, he couldn't hit Wilt Chamberlain with that pitch. I haven't talked to Johnny about it. I don't think there's any bad blood between them."
And more (cincinnati.com):
"Just put them in a room, let them box and let it be over with. I always said this: let it be like hockey. Let them fight, someone hits the ground and it's over with. I'm serious about that."
The Cubs and Reds next face each other for a four-game series June 10-13 in Wrigley Field. Hopefully, Cueto and Garza are still lined up to face off again.
Keep it locked right here for everything you need to know about the world of baseball Tues...

There have been several racially charged incidents at Fenway Park this year

Washington's right fielders have sputtered offensively since Harper went down
The good news? Wichita still has a chance to win the series Tuesday night

Soon more home runs will have been hit in 2017 than in any other season in MLB history

Ferrell somehow avoided going to the ground