Matt Harvey and the safest bet in sports -- pitchers get hurt
Matt Harvey's elbow injury is a not-so-gentle reminder of just how dangerous and unnatural pitching is.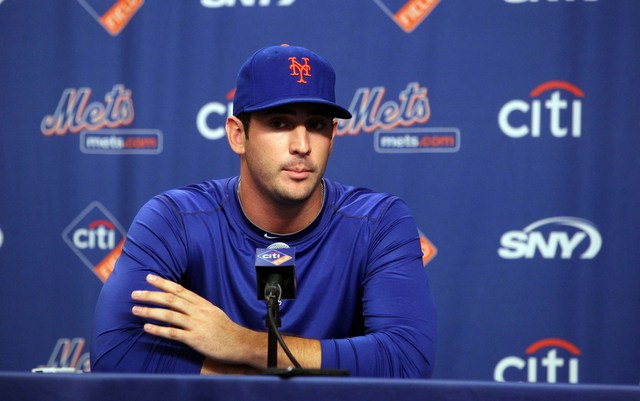 More MLB: Scoreboard | Standings | Probable Pitchers | Sortable Stats | Odds
The baseball world was shook on Monday afternoon with the news that All-Star right-hander Matt Harvey has a partially torn ligament in his right elbow. This is one of those injuries that is bad for baseball and really bad for the Mets. If he winds up having Tommy John surgery, Harvey will be out until the start of the 2015 season for all intents and purposes.
Young pitching is baseball's most precious commodity, which is why teams spend thousands if not millions of dollars trying to figure out how to keep their top young arms healthy. There are innings and pitch limits, long-toss programs and offseason workouts, biomechanical analyses, all sorts of stuff. That's just the stuff we know about too. Imagine what's going on behind the scenes.
And yet, pitchers still get hurt. Harvey has a classic workhorse build -- listed at 6-feet-4 and 225 pounds on the team's official site -- that makes you think he'll log 200-plus innings year after year, but he still got hurt. The human body is a jerk like that. Smooth mechanics, big frame, controlled workload ... it doesn't matter. Sometimes pitchers get hurt and there's nothing anyone can do about it.
In a case like this, we're all quick to assign blame. Stupid Mets for letting Harvey pitch through forearm discomfort. How could they let him throw 663 pitches in a six-start span earlier this year? We have to blame someone and you know why? Because people don't like the thought of not having control. The idea of doing everything right and still being wrong freaks people out, yet it happens all the time in baseball. Pitching injuries especially.
The reality is that a pitcher getting hurt is the safest best in sports. Research has shown that roughly 50 percent of pitchers will suffer a major arm injury at some point in their careers, and that doesn't include the minor stuff that sends them to the DL for a few weeks. That percentage is far higher. Pitching is a dangerous and completely unnatural act that leads to injuries. The injuries could come early in a career or much later, but they're almost inevitable. It sucks but it's a fact of life.
As a baseball fan, Harvey's injury is truly awful. I'm not even a Mets fan. Far from it in fact. The guy was a joy to watch every five days and you couldn't help but dream about his seemingly limitless potential. Baseball has a way of keeping those dreams in check though. Pitching injuries are inevitable and they do not discriminate. They happen to the guys we love and the guys we hate. And, more often than not, they happen for no apparent reason. That's the scariest part.
Boston wants to add two big bats to their lineup, not just one

Even more relievers signed on the final day of the Winter Meetings

Keep tabs on the top 50 free agents right here
The league is not happy Ohtani's medical information leaked

Kansas City and Baltimore were quite busy at the Rule 5 Draft

Piscotty's mother was diagnosed with ALS earlier this year