Matt Harvey will throw HOW many pitches?
Giants manager Bruce Bochy and Mets skipper Terry Collins had lots to talk about Monday in New York just a couple of days after Tim Lincecum threw 148 pitches to complete a no-hitter. Just don't mention Johan Santana.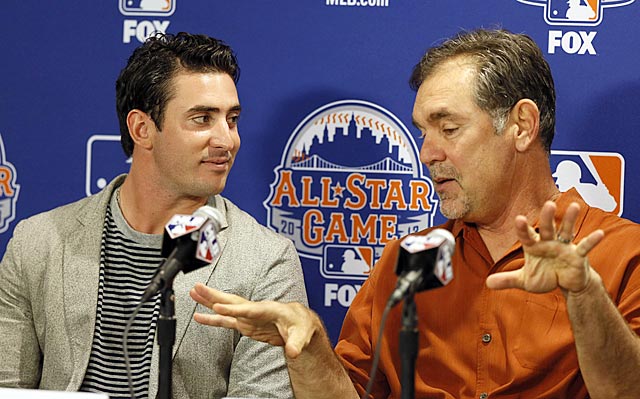 NEW YORK -- National League manager Bruce Bochy looked over at starting pitcher Matt Harvey early Tuesday and quickly assessed his expected workload.
"He's only limited to 100, 120 pitches," Bochy joked.
Or was he joking?
Remember, this is the Giants manager who stuck with Tim Lincecum through a whopping 148 pitches only two days earlier as Lincecum no-hit the Padres.
"We're not going to try and go too hard," Bochy quickly reassured. "But Terry [Collins, Mets manager] is sitting beside me in the dugout, and it's great to have Terry here with me."
Collins, on Bochy's NL coaching staff, chuckled over the idea of Harvey tossing that many pitches.
"I'm going to tell you something," Collins said. "Matt Harvey will pitch as long as Boch lets him."
And truth be told, these two managers have a couple of things in common: no-hit history and agonizing decisions over high pitch counts during them. Bochy and Collins were comparing notes earlier in the day regarding Lincecum's no-hitter and the one Johan Santana pitched for the Mets on June 1, 2012.
Facing the Cardinals that night, Santana worked a career-high 134 pitches to complete that no-no. Not long after, he suffered a torn shoulder capsule, underwent surgery and is out for 2013.
"We shared a feeling over Johan and Lincecum, who was sicker during it," Collins said.
And what did they decide?
"I don't have Johan this year," Collins said. "So it probably was me."