Matt Harvey would like to return to MLB action in August
Matt Harvey won't pitch until he's cleared to do so, but he would like to make upwards of seven starts this season for the Mets.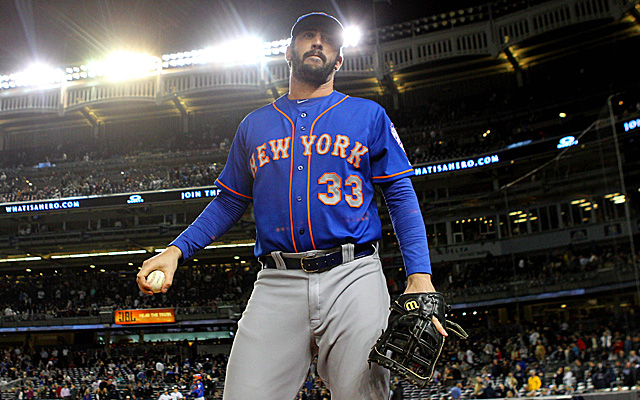 More MLB: Power Rankings | Expert Picks | Latest news & notes | Fantasy news
Mets ace Matt Harvey is pining to get back on the hill as he recovers from Tommy John surgery. He's been saying for the past several months that he wants to pitch for the Mets during the 2014 season, and Tuesday -- in an article by SI.com's Tom Verducci -- Harvey clarified when and why.
First up, his goal as to a return (SI.com):
"Of course, I won't do it unless I'm cleared to do it," he said, "but I want to pitch before the year ends. I want to make five, six, seven starts this year. I asked [the training staff], 'If I want to come back in August, when do I need to start throwing off a mound?' They said June 10. So that's what we have penciled in right now. That's the plan.
And now why he so badly wants to come back this year:
"I just want the peace of mind," he said. "I want to go back out there and know I still have the stuff to strike out major league hitters. And I want to know that when I shut it down at the end of the year, I'm just like everybody else shutting it down. I don't want to go through all this work and wonder all winter where I am. I want to be just like everybody else when this season ends and the next one starts."
That makes perfect sense. It's easy for the armchair quarterback to say a professional athlete should just wait until the next season, but Harvey is looking ahead toward the 2015 season -- he just happens to believe he'll be better suited for that season if he gets some confidence back on the hill in 2014.
Let's also be very particular here and recognize the most important part, bar none, of the above quotes: "I won't do it unless I'm cleared to do it."
Harvey isn't trying to push himself back to the hill against the advice of trained medical professionals. He's not trying to "rush." He's trying to work his butt off in order to get cleared by trained medical professionals. If he doesn't get cleared before the season is over, he hasn't accomplished his goal of getting back to the mound and it sounds like he'll just take his medicine and get back after it in the spring.
The recovery time for Tommy John surgery has been traditionally 12-18 months and Harvey had the procedure in late October, but as medical technology gets better we've started to see pitchers break into the 11-month range in recent seasons, at times.
Harvey, 25, was the All-Star Game starter last season for the NL and ended up going 9-5 with a 2.27 ERA (157 ERA+), 0.93 WHIP and 191 strikeouts in 178 1/3 innings. He only managed 26 starts before his elbow injury, but during that time he was one of the very best pitchers in baseball.
Dodgers manager Dave Roberts on Sunday announced his World Series rotation for the first four...

How should the Astros play it when one of their two aces isn't on the mound against the Do...

The former big-league infielder also worked as GM of the Puerto Rico national team
The Indians pitching coach would be getting his first MLB managerial job

In the last several years, lots of droughts have ended in MLB

The most likely scenarios are Dodgers winning in five or six games