Matt Kemp activated from disabled list after all
The Dodgers were hoping to activate Matt Kemp from the DL Monday, but there was talk he wouldn't be. And then they did activate him eventually.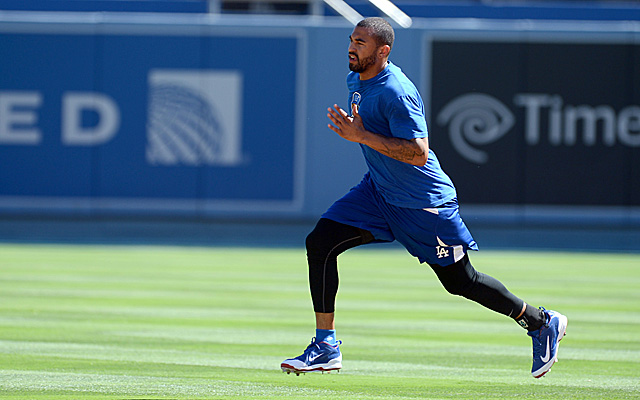 More MLB: Scoreboard | Standings | Probable Pitchers | Sortable Stats | Odds
The Dodgers went into Monday with the possibility of activating center fielder Matt Kemp from the disabled list. Then a report surfaced that he'd been activated. Then manager Don Mattingly told reporters that he wasn't sure if Kemp would be activated or not.
But then the Dodgers officially announced Kemp's activation, roughly a half hour before Monday's game against the Diamondbacks. Mattingly also told reporters that as things currently stood, Kemp was a pinch-hitting only option (latimes.com) for Monday.
Kemp has only been able to play 62 games this season, due to hamstring, shoulder and ankle problems. He's hitting .263/.319/.382 with 12 doubles, five homers and 27 RBI, but he hit hit .324/.390/.622 with three homers and 10 RBI in his last 11 games before the hamstring issue popped up.
Fellow outfielders Andre Ethier, Carl Crawford and Scott Van Slyke are also banged up, so Yasiel Puig won't be seeing familiar faces alongside him in the outfield. And, again, Kemp is on pinch hitting duty, according to Mattingly.