Matt Kemp appears to be off the trading block
Once a big name on the trade block for the Winter Meetings, Dodgers outfielder Matt Kemp has been told -- through his agent -- that he won't be traded.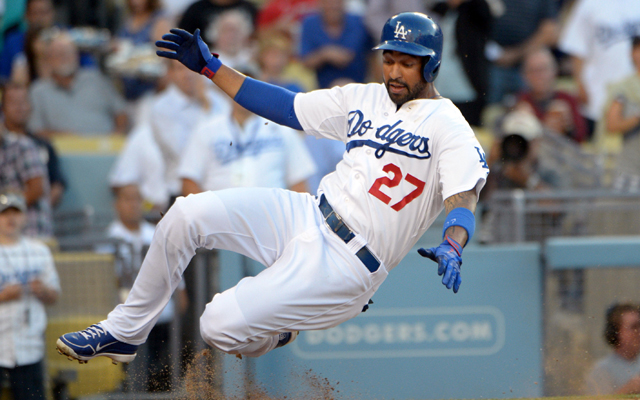 MORE: FA tracker: position players | FA tracker: pitchers | Winter Meetings updates
ORLANDO - Dodgers All-Star center fielder Matt Kemp was one of the biggest names possibly on the trading block when the Winter Meetings began here earlier this week. After some questions about his health, the Dodgers sound poised to keep him.
Kemp's agent, former A's ace Dave Stewart, told Jayson Stark of ESPN.com that the Dodgers have said, "they have no plans to move [Kemp]."
Now, this could signal one of two things:
1. The Dodgers will now focus solely on moving Andre Ethier, or
2. The Dodgers are going to enter the 2014 season with some pretty solid outfield depth: Yasiel Puig, Carl Crawford, Kemp and Ethier.
Manager Don Mattingly is already prepared to deal with the latter.
"Like I told those four guys last year," he said Tuesday, "I know somebody is not going to be happy the days that they don't play."
"But also within that," Mattingly continued, "We found out if we can give Carl an extra day off here or three, he seems to be even better. We think Matt will probably need the same type of thing, while you're getting a day here and there. Andre, the same, days here and there."
"Is that enough days where somebody is not happy? I'm not sure about that, but it's a good problem to have for me."
Earlier this week, we noted that Kemp might not be healthy enough to be tradeable anyway -- as he's still in walking boot. And though he might not be 100 percent heading to camp, Mattingly sounded confident he wouldn't be far off.
"Feels like Matt is going to come into spring training and be able to run, hit and throw," Mattingly said. "I'm sure there is still some progression going on there, but I think we expect him to be ready to go."
Still, with health concerns for Crawford, Kemp and Ethier -- not to mention's Puig's all-out style of play -- it's probably not a real bad thing to keep all four around heading into next season.
It's almost that time of the year again, time for the Tebow madness to return

Walker was a tremendous all-around player, but Coors Field undoubtedly inflated his career...

A beardless Wilson says that he tried to outrun the police on the second day he had his driver's...
The Diamondbacks outfielder was not impaired, he was just going way too fast

MLB can unilaterally implement rule changes, which will also include limits on mound visit...

If the MLBPA wants to repair MLB's salary structure, it should push for more money for young...