Matt Kemp 'can't accept' fourth outfielder role
The Dodgers have four starting-caliber outfielders and obviously only three available spots. Matt Kemp says he "can't accept" being the odd man out.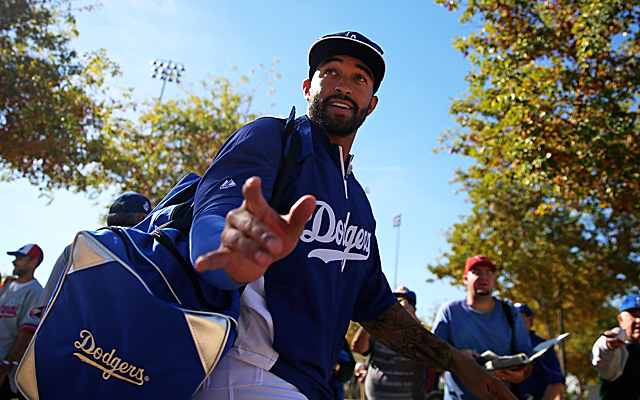 MORE: Kemp and others enter 2014 under pressure to bounce back
The Dodgers began full team workouts Friday, meaning their four starting-caliber outfielders were all there, and center fielder Matt Kemp didn't seem to take too kindly to any talk that he could possibly be the odd-man out when it comes to an everyday starting job -- via latimes.com:
"I don't know where you get this fourth outfielder talk from, man. You all love talking about four outfielders, man. That's like the question of the day every day. I think all four of us outfielders feel the same way. None of us are fourth outfielders. Everybody wants to play every day. I won't accept that role. I can't accept that role."
I don't know how he could possibly not know where the fourth outfielder talk comes from. Between Kemp, Yasiel Puig, Carl Crawford and Andre Ethier, the Dodgers essentially have four starters for three spots. While sometimes media questions are out of line or even outright dumb, the four outfielders in Dodgers camp form a legitimate storyline.
If all four are healthy -- and, granted, that's a huge if with this group at this point -- someone has to come off the bench. To hear it from Kemp, though, it won't be him -- again, via latimes.com:
"I'm not a fourth outfielder. We can cut that question off right now. That's the last question you have to ask me. I'm not a fourth outfielder. I'm not going to be a fourth outfielder. I'm here to help my team win and play every day. We can stop right there."
Kemp is coming off a disaster of a season where his surgically-repaired shoulder bothered him and he also needed ankle surgery this past offseason.
Of course, if Kemp is healthy -- and he insisted to reporters that he will be this season -- he's a decent bet to end up the most productive of the bunch. He hit .324/.399/.586 (172 OPS+) with 39 homers, 126 RBI, 115 runs and 40 stolen bases in 2011, finishing second in MVP voting to Ryan Braun. He was hitting .365/.453/.739 with 12 homers and 27 RBI in 33 games to begin the 2012 season before being derailed by injury, too.
So while some might not like Kemp's outspoken approach to not being the odd man out in this outfielder mix, he has the track record to back it up. If he's healthy, expect him to play pretty much everyday -- just like he did from 2008-11, when he averaged 159 games played per season.
The Grapefruit League and Cactus League seasons started on Friday

Data will be collected and then used to determine whether humidors are necessary in 2019

Spring training play began on Friday, and the Stoneman Douglas tragedy was on the mind of MLB...
Baseball players forced to take pictures usually lead to fun for all of us

One of the most celebrated programs in baseball is looking to continue its run

A closer look at the teams in the Cactus League and Grapefruit League