Matt Kemp dragged into Donald Sterling mess, handled like a champ
Matt Kemp's name was brought into the Donald Sterling controversy, and Kemp just said he felt sorry for Sterling because "racism is old."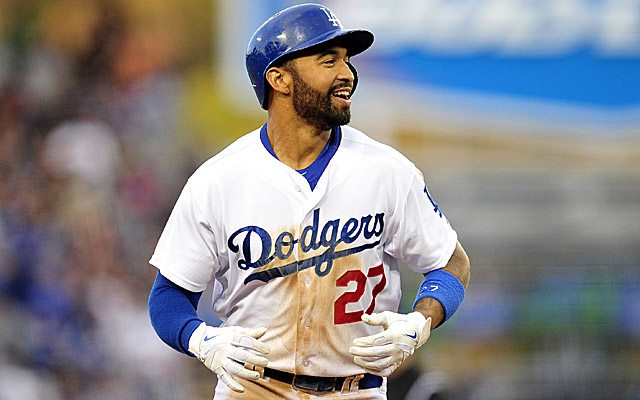 More Sterling: Longer version released | Obama comments | MJ too | Clips warmups
In the controversy surrounding Los Angeles Clippers owner Donald Sterling, Dodgers center fielder Matt Kemp has been dragged into the mess and he responded very well.
In the course of a conversation with his girlfriend, Sterling is alleged to have said (via recording) that she needs to remove all pictures from her Instagram account with African-Americans. She specifically replied that she thought Kemp was "mixed" and therefore she thought it was OK to not delete it.
So, obviously, Kemp was asked about the situation Sunday by reporters. Not surprisingly, Kemp responded calmly and respectfully, via latimes.com:
"Racism is kind of old, for real," Kemp said. "Honestly, I just feel sorry for him, that he feels that way about African American people."

--snip--

"This is bigger than the game. I'm shocked people still feel that way towards Latins, blacks, white people. We're all the same. We all bleed the same. We're all the same people. It really doesn't make any sense."
Pretty well said. It doesn't make any sense at all to any rational person.
Kemp also changed his walk-up, at-bat music to Michael Jackson's "Black or White," of which the tagline is "it doesn't matter if you're black or white."
Finally, Kemp understandably and unfortunately said he's going to have to stop taking pictures with people, just to avoid any issues/unintended controversy moving forward. One might recall that Kemp is extremely fan-friendly, too. Remember this? Or this? He did specifically say he would still sign autographs for anyone, though.
Martinez has spent most of the past decade as Joe Maddon's bench coach, but should be ready...

The Dodgers have acquired more players through trades than by any other means

Surprisingly few current Astros were originally drafted by the team
Dodgers manager Dave Roberts on Sunday announced his World Series rotation for the first four...

How should the Astros play it when one of their two aces isn't on the mound against the Do...

The former big-league infielder also worked as GM of the Puerto Rico national team