Matt Kemp may be returning to 'Bison' form at plate
Matt Kemp is hitting .333/.385/.542 with two doubles, a home run and four RBI in 26 plate appearances. What if he's back? Bad news for everyone but the Dodgers, that's what.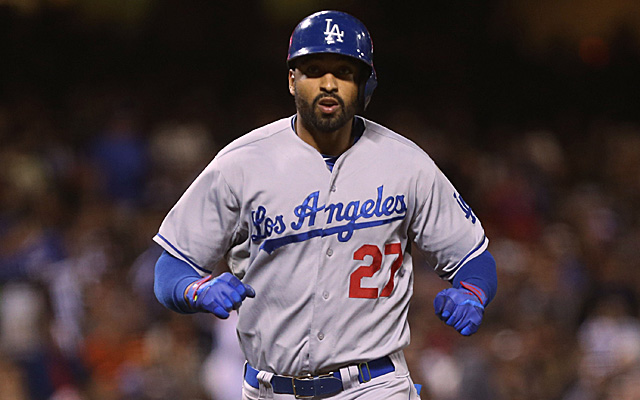 More MLB: Scoreboard | Standings | Probable Pitchers | Sortable Stats | Odds
Due to the hamstring difficulties, we likely aren't going to see much base stealing from Dodgers outfielder Matt Kemp the rest of the way. He does, however, appear to have his shoulder woes squarely in the rearview mirror as October approaches.
And that could well mean pretty bad news for potential playoff opponents.
Since returning from the disabled list this month, Kemp is hitting .333/.385/.542 with two doubles, a home run and four RBI in 26 plate appearances.
Though Kemp would never use it as an excuse earlier this season, many -- myself included -- believe that a lot of his early-season woes were due to his shoulder not being fully recovered from off-season surgery. He was hitting just .251/.305/.335 with two homers through 210 plate appearances before needing to be placed on the disabled list heading into June.
Since then, Kemp has hit .328/.388/.590 with four doubles, four homers and 14 RBI in 67 plate appearances. Obviously, small-sample caveats apply and there was a disabled list stint in there for his left shoulder again acting up. He then returned for a game before injuring his ankle, but overall, Kemp has looked a lot more like his old self at the plate. Like the man from a time when he was proudly called The Bison.
Remember, Kemp should have been the NL MVP in 2011, as he hit .324/.399/.586 with 39 homers, 126 RBI, 115 runs and 40 stolen bases. Before hamstring issues derailed him last season, he was hitting .359/.446/.726 with 12 homers and 28 RBI through 34 games.
He still finished with a very good season, but the point is we're talking about a player capable of being one of baseball's top five position players when he's totally healthy. It's just that he hasn't been healthy often. He's only 29 years old and looks like his shoulder woes are behind him, so it's not out of the question he stays healthy the rest of the way and hits like he's capable.
So, basically, we're talking about a team that has gone 61-24 since a deep slumber essentially adding an MVP-caliber player to its lineup just weeks before the playoffs. Talk about a boost for October.
Sunday's MLB roundup features the D-Backs clinching a postseason spot and the Mariners going...

The 2017 season has been, by far, the worst season of Cabrera's career

The Mariners were eliminated from postseason contention with Sunday's loss
Maxwell became the first MLB player to kneel during the national anthem Saturday

The Blue Jays are not expected to bring Bautista back next season

The Dodgers have already clinched the NL West title, so the D-Backs will be a wild card te...