Matt Kemp unsure if he will be healthy in time for opening day
Matt Kemp might not be ready for the Dodgers' season-opener in Australia following a pair of offseason surgeries.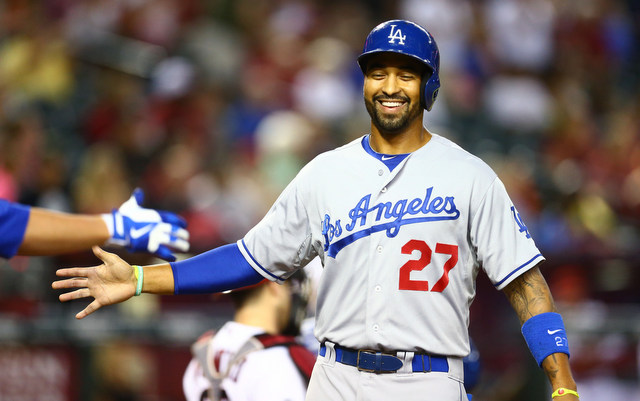 MORE: FA tracker: position players | FA tracker: pitchers
Last season was an injury-marred nightmare for Dodgers outfielder Matt Kemp. He was limited to only 73 games by hamstring, shoulder and ankle problems, and earlier this offseason he needed surgery on his left ankle and left shoulder. It was his second procedure on the shoulder in as many offseasons.
At the team's annual FanFest event on Saturday, Kemp told Dylan Hernandez of the Los Angeles Times that he doesn't know if he'll be ready to play when the team's season starts with a two-game series against the Diamondbacks in Australia from March 22-23.
"If I'm ready to play, I'll play. If not, I'm not going to play," he said. "I don't want to come back at 80 percent and get hurt again. I want to be 100 percent the whole year and give everybody what I can give them with a full year of me being healthy."
Kemp, 29, said his shoulder is pain-free, but he has not yet run at full strength following the ankle surgery. He is running on a special machine that reduces the stress on his legs and will be on a different conditioning program than his teammates when spring training opens later this month. The Dodgers are on board with the cautious approach, obviously.
Los Angeles has four starting caliber outfielders for three spots, so Carl Crawford, Yasiel Puig and Andre Ethier figure to play everday while Kemp is sidelined. Despite persistent trade rumors, expect the club to hang onto all four players until they all show they're healthy and effective.
Kemp hit .270/.328/.395 (105 OPS+) with six home runs and nine stolen bases in his 73 games last year. He was the MVP runner-up in 2011 but has played only 179 of 324 possible games over the last two seasons due to injury problems.
Following the two games in Australia, the Dodgers open the domestic leg of their regular season against the Padres on April 1.
The process for determining home-field advantage in the World Series is different in 2017

The Yankees will have to close out the series on the road

Let's update each team's chances of winning the World Series
Puig has a healthy relationship with his club of choice and gave the quote of the night

The Dodgers are back in the World Series thanks to a smartly built roster, analytics and m...

Seager missed the NLCS with a back injury