Matt Moore's return gives Rays a big lift heading into stretch
He hadn't started since July 28, but Matt Moore sure didn't appear rusty in stepping off of the disabled list and into a pennant race.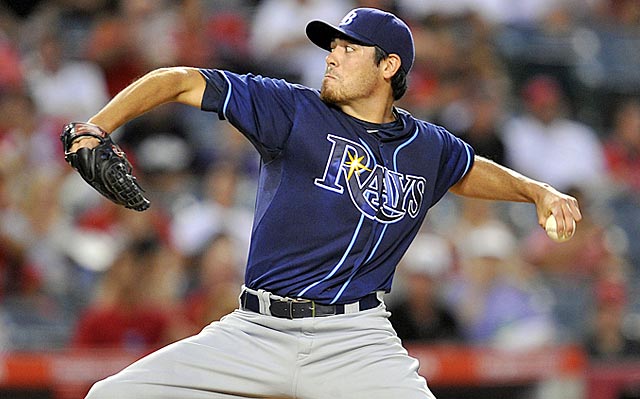 ANAHEIM, Calif. -- Now where was Matt Moore when he was so rudely interrupted?
Oh, yeah -- on a winning streak that he extended to seven consecutive decisions with Tuesday's triumphant return, a 7-1 clocking of the Angels.
Not that the Rays are thrilled to have their 24-year-old All-Star back, but let's just say in the 31 games he missed ... they went 13-18, the third-worst record in the American League.
Ouch. Talk about a sore arm.
And talk about getting healthy.
Getting Moore back is big.
"I didn't really feel foreign out there," said Moore, who last started on July 28. "The thoughts I was having were pretty typical for a start."
Moore stuffed the Angels over 5 1/3 shutout -- and workmanlike -- innings.
He didn't dazzle and he didn't dominate. He walked four. Struck out six. Surrendered an unearned run in the second. Wiggled out of a jam in the fourth.
Left a lasting impression that he can come back strong down the stretch. And, with a healthy Alex Cobb and with Jeremy Hellickson rejoining the Rays' rotation Wednesday, that Tampa Bay will have its dominant rotation back together again for the final few weeks.
"I liked that there was no hesitation on the curve and changeup," manager Joe Maddon said. "His fastball, he's normally going to throw some wild and then come back and paint."
Paint he will, and it's all artists on deck as the Rays try and catch Boston in the intriguing AL East.
"He was first in the American League in wins when he went down," Rays ace David Price says. "He was throwing extremely well. He was a horse for us."
Not Mr. Ed, either.
Of Moore's 22 starts this season, 15 have come against clubs with winning records. The Rays are 11-4 in those starts.
It was his seventh start allowing no earned runs, which leads all AL lefties.
"In hitter's counts, I feel like I was able to battle and make some pitches," said Moore, who threw 94 pitches.
From here on out, "battle" is the key word. The Rays most definitely are in one.
Boston wants to add two big bats to their lineup, not just one

Even more relievers signed on the final day of the Winter Meetings

Keep tabs on the top 50 free agents right here
The league is not happy Ohtani's medical information leaked

Kansas City and Baltimore were quite busy at the Rule 5 Draft

Piscotty's mother was diagnosed with ALS earlier this year