Matt Wieters fact? He's a two-time All-Star
Matt Wieters may not have lived up to his lofty expectations, but he's at his second straight All-Star Game with seemingly more to come.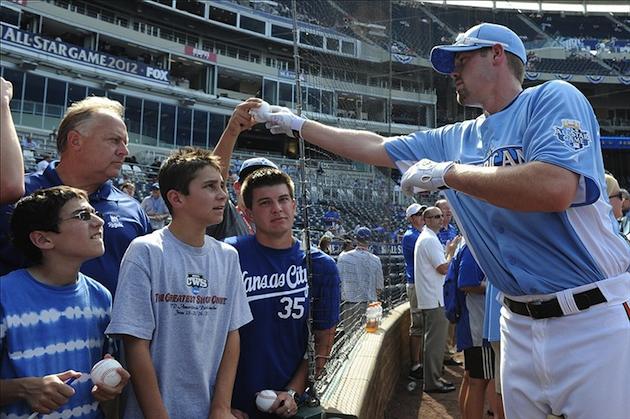 KANSAS CITY -- MattWietersFacts.com doesn't appear to have been updated since June 11, 2010, with a "current" average of .241, four home runs and 17 RBI. The website, which was result of a popular meme several years ago after the Orioles took Matt Wieters with the fifth overall pick in the 2007 draft, has remained dormant even as Wieters has started to fulfill his potential as one of baseball's best catchers.

Before Bryce Harper and Mike Trout were the can't-miss prospects, Wieters was supposed to be a savior for the struggling Baltimore Orioles franchise, a switch-hitting Joe Mauer with a Johnny Bench glove. The hyperbole grew on Twitter and message boards to the point where he was as all-powerful as Chuck Norris. Orioles fans took the popular Norris meme and inserted Wieters name for the action star:
Matt Wieters Is The Reason I Comes Before E, Except After C.
Matt Wieters Once Framed A Pitch So Perfectly That It Counted As Two Strikes.
Since 1986 No Children Have Been Born In Goose Creek, South Carolina. The Reason? Nobody Scores When Matt Wieters Is At Home.
Matt Beat Cancer..... Literally With His Bat. There Is No More Cancer.
When Wieters' Career Was Over, Fans Came Back To MattWieters.com And Laughed At How Low The Expectations Ended Up Being.
"He came up like Jesus Christ -- in Baltimore he was like Jesus Christ, me I was just some regular dude from Seattle," said teammate Adam Jones, himself a former top prospect. "He got a standing ovation in his first at-bat. I remember that day."

On that day, Wieters, hit into a double play in his first at-bat in a 7-2 victory over the Tigers at Camden Yards. He went 0 for 4 and already he failed to live up to expectations. He went on to post an impressive .288/.340/.412 line in 96 gmaes, but hit just .249/..319/.377 in his second season, 2010. Apparently, either after his 0-for-4 performance on June 10 in a victory over the Mets or the 1-for-4 game against R.A. Dickey and New York the next day (his average stayed the same), MattWietersFacts.com apparently became disillusioned.

Not only did Wieters not live up to expectations -- it seems impossible for anyone to live up to that kind of thing. He has, however, been named to the last two All-Star teams and picked up his first Gold Glove last season. Orioles closer Jim Johnson -- who is admittedly biased -- said Wieters is the best catcher he's seen.

"It's a lot of different things. I want guys to run on me, because I know it's an out. I almost want guys to run because it's an easy way to get an out," Johnson said. "If I can get an out without throwing a pitch, that does me a favor. Two is there's never any question over what I'm throwing next. If I feel like I'm throwing what he wants, we're both on the same page. He doesn't just scout the other teams. He knows his pitchers, he scouts his pitchers and he is always trying to learn."

Being a defensive catcher -- although one with pop for 20-plus homers a year -- is valuable in baseball, but it's hardly the stuff of Chuck Norris-type legend. And that's OK with at least one person.

"It's been a while," Wieters said on Monday, "and I'm glad I haven't heard them for a while."
For more baseball news, rumors and analysis, follow @EyeOnBaseball on Twitter, subscribe to the RSS feed and "like" us on Facebook.
The Twins have already fortified the bullpen with Addison Reed, and now they want to address...

The Orioles likely want pitching, and the Indians have plenty of it

Halladay died in a November plane crash off the coast of Florida
The power-hitting outfielder is headed to Toronto

Martinez could add some power to a Boston lineup void of it

It's almost that time of the year again, time for the Tebow madness to return