Matt Williams not happy about 'Bryce Harper to the minors' talk
Nationals manager Matt Williams doesn't seemed pleased by speculation that Bryce Harper could be sent down, even though he helped fuel that speculation.
More MLB: Power Rankings | Expert Picks | Latest news & notes | Fantasy news
Nationals phenom Bryce Harper, who's still just 21 years of age, isn't having a great season. In 52 games, he's batting .249/.333/.359 (93 OPS+) with just three homers. Since returning in late June from a serious thumb injury, he's been even worse: .214/.319/.306 in 114 plate appearances. Harper's struggles in tandem with the Nats' designs on the postseason have led to speculation that Harper and the team would be better served by optioning him to the minors. 
Washington manager Matt Williams was asked that very question during a Tuesday appearance on 106.7 The Fan, and here's how responded: "Generally, if you have young players, that's what you do. But this guy is a special young player."
That's batting down the idea, but it's not doing so as firmly as possible. Williams's slight equivocation meant that the question would of course be asked again. And so it was, on Wednesday. Here, via the AP, is what Williams said to that:
"I would caution everybody in this room: The minute you think you can read my freaking mind, you're sorely mistaken. It (ticks) me off to even think about, that somebody would take a comment I made on the radio and infer I am thinking one way or another. I've had it. Don't do it anymore.

"Bryce Harper is one of the guys on our team, he's a very important part of our team. Just like everybody else is. Do we understand each other?

"It's not fair to the kid, it's not fair to the rest of the guys in that clubhouse to even think about sending Bryce Harper to the minor leagues, or to cause a stir. It's unacceptable. It won't happen."
Fair enough. Of course, if Williams didn't want the issue to persist, then his initial answer should have been something along the lines of, "No, Bryce Harper is not going back to the minors."
In any event, it appears that, no, Bryce Harper is not going back to the minors.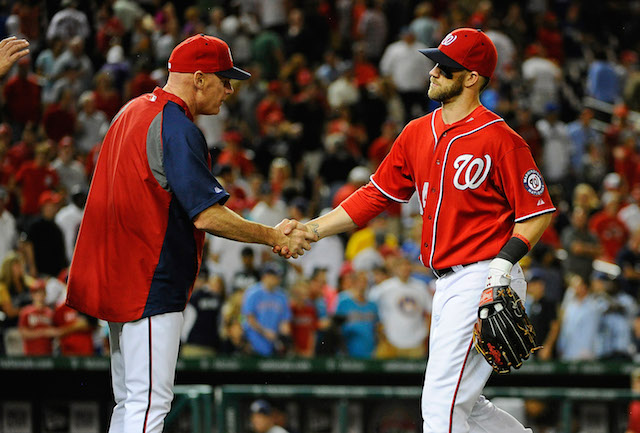 The Nats will host the All-Star Game in 2018

The Orioles are looking to trade Machado heading into his walk year

The Cardinals have been linked for a while to the Baltimore star
Gallardo spent the first eight years of his career in Milwaukee

MLB revenues are at a record high right now, but teams aren't spending it on players

Chicago added Tyler Chatwood earlier this offseason but might not be done adding to the ro...