Matt Williams said to be a candidate to become Nats manager in '14
The former slugger is well respected as the Diamondbacks third base coach.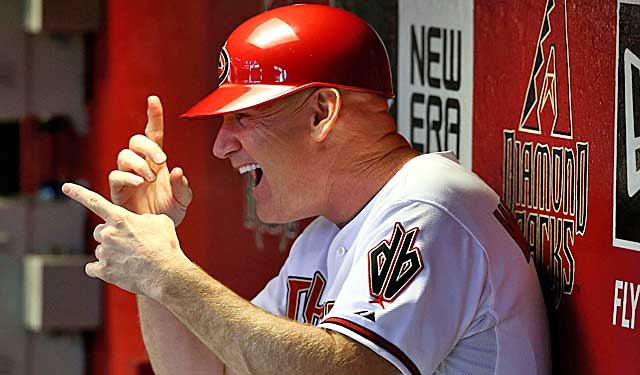 Matt Williams, the former Giants, Indians and Diamondbacks slugger who has been coaching in Arizona the past few years, has been mentioned as a potential Washington Nationals managerial candidate for next year.
Williams is a bit of a surprise because he doesn't have an extensive managerial background, though he did interview and was a finalist for the Rockies' managing job that went to ex-Rockies player Walt Weiss last winter. Williams managed the Salt River Rafters in the Arizona Fall League. He is an extremely well respected as a coach because of his diligence and team-first attitude.
The Nats are planning to conduct a search after this season, and Williams' name is said to be among those who will be considered, according to sources.
"He has the traits of (Kirk) Gibson,'' one rival GM said, referring to Arizona manager Kirk Gibson. "He's tough-minded, and doesn't let things slide. He has a fierceness to him."
Nationals manager Davey Johnson announced before the season that he was going to retire as manager after this season and return to an advisory capacity. Johnson is expected to play a role in the key decision regarding who is hired to replace him after the season.
Nationals GM Mike Rizzo has an extensive history with Williams, who from 1998-2003 played in Arizona, where Rizzo served as the scouting director in the early 2000s. But Williams' reputation as a serious team player is well-known in baseball circles.
He was hired for the 2010 season to be Arizona's first-base cach after serving in some player personnel advisory capacities earlier. He switched over to coach third in 2011.
Previously, he had been a limited partner of the Diamondbacks.
The five-time All Star hit 378 career home runs during his playing career.
Here are the bullet-points of what went down Tuesday regarding MLB and the Braves' punishm...

The owners need to ratify on the new system in place, but the takeaway here is Ohtani is coming...

A preliminary report National Transportation Safety Board has shined some light on details...
John Coppolella was placed on the permanently ineligible list by MLB on Tuesday

Among other sanctions, Atlanta lost the player who was deemed the No. 1 international signing...

Among other penalties, No. 1 international prospect Kevin Maitan is now a free agent