Mattingly doesn't deserve to pay for high-priced Dodgers' slow start
The struggling Dodgers' owners are said to view Zack Greinke's return as hope. It may also mean that manager Don Mattingly is under the gun.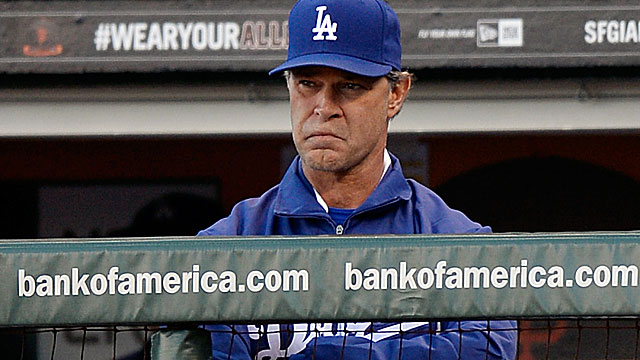 Fair or not, Donnie Baseball may be on the clock, starting today.
Team higher-ups, said by a couple Dodgers-connected people to be "shellshocked" by the high-priced, much-ballyhooed team's disappointing start, have been pointing to the return of Zack Greinke as a potential turnaround time. Well, just or not, that time is suddenly upon us.
Greinke, the gutsy wisp of a right-hander who threw himself in front of a hard-charging bull named Carlos Quentin, must be about the quickest healer in baseball. He was returning to pitch Wednesday night for the Dodgers, five weeks after suffering a broken collarbone, and as many as three weeks earlier than projected.
It's hard to imagine one starting pitcher, even one with a brand-new $147 million contract, playing savior for a sagging team. Anyway, that's apparently the hope.
It's fair to say the team has been something less than great for nearly a half-season now --it's 16-22 and in last place in the NL West after going 19-19 following its big trade with Boston over the same number of games -- and it would be easy to pin this on Mattingly. But it wouldn't be right, either.
Give the new ownership group credit for not rushing to judgment to this point (even if they are shellshocked), and while there are no guarantees, there's little sense they are close to firing Mattingly. At least, it doesn't seem to be happening in a matter of days.
These new owners are all used to winning big, especially NBA great Magic Johnson, who tweeted a very early apology for the team's play, which was either very polite of him or the first sign of a panic setting in. But Magic's not the only who's used to winning. The same can be said for baseball-basketball guy Stan Kasten, the Dodgers' president who had more winning with the Braves than the upstart Nationals or Atlanta Hawks, as well as the money guys, the Guggenheim Partners. If they didn't believe in the value of cash before, they certainly must now, after winning the team for a record $2.15 billion from village villain Frank McCourt.
Anyway, if they're all just giving Mattingly a short reprieve until a little while after Greinke returns, shame on them. Because Mattingly, who's a lame-duck after being turned down this winter for an extension (not too much should be read into this because most of the Dodgers' key decision-makers are operating on a year-to-year basis) brings all the main qualities you'd seek in a manager.
Donnie Baseball not only has a great nickname, but he is hard-working, has integrity and baseball know-how. He also fulfills their wish to have stars. While he is self-effacing, he certainly is that.
Is he Tony La Russa yet? No, probably not. But among the recent spate of hires, he's certainly in the top half. And he certainly shouldn't be held accountable for a few-week slump to start the season.
"Donnie doesn't hit. Donnie hasn't hit in the big leagues in 18 years," Dodgers general manager Ned Colletti said by phone. "While he's the manager, and we all know it's a results-oriented business, he's not going to the plate. It's a matter of being able to focus and execute. That's not on the manager."
If it continues for a year or more it may have to be. But we're not even a quarter into the season yet.
Mattingly told Bill Shaikin of the Los Angeles Times that he tries not to think about his job status. But he's been around the block, as he pointed out. He was in the Yankees organization for most of the time when George Steinbrenner ran through 19 managers in 19 years (and at least that many pitching coaches).
The Dodgers new group surely took a page out of the Steinbrenner playbook by stocking its teams with stars and big names, running the tab up to a NL-record $220 million payroll. Let's hope they go to school on Steinbrenner's early hiring-and-firing mistakes. Later, Boss George realized that if you have the right manager, it's better to keep him rather than hire and fire him five times, for instance.
Anyway, the Dodgers' problems are not Mattingly problems. Here are the real Dodger issues:
• Some of the stars are underperforming, especially a couple longtime Dodgers. Matt Kemp and Andre Ethier aren't coming close to living up to their contracts. They're getting better, but even during Kemp's turnaround streak (he's up to .276), he is showing so little power that Dodger people are wondering whether the shoulder injury from last year still is sapping his strength.
• Even the non-stars are underperforming. Luis Cruz was useful last year but this year he has a .087 slugging percentage. That is hard to do.
• The stars are really underperforming when it counts. Kemp is 7 for 39 with runners in scoring position (all singles), Ethier's 8 for 39 (all but one are singles). The Dodgers are hitting .296 as a team with runners in scoring position, which not surprisingly is the worst figure in baseball.
• They've been unlucky. On their eight-game losing streak, five losses came by one run and a sixth by two.
• They've been ailing. The Dodgers have nine on the disabled list, and would have 10 if Josh Beckett, as expected, has to go on with his groin issue. Jerry Hairston Jr. and the indispensable Mark Ellis (he's more indispensable than you think) are expected to come off the DL next week in Milwaukee, and hopefully their return isn't an excuse to look more closely at Mattingly.
The big knocks against Mattingly seem to be about two main things, besides the typical general mumbling about pen usage. One is that he's too nice. The other is that he issued a quote that was too nice.
Those clearly are not good enough reasons to can a respected legend who's dealing with an injured team mired in a few-week hitting slump.
Being a nice guy, there are going to be more stories about Mattingly's status. Mattingly will receive reporters who ask him about his status, which may only fuel the debate.
Mattingly's too-nice comment came when he said after the Dodgers lost three straight one run games to the rival Giants in the middle of their losing streak that he felt better about his team after the series. No, that wasn't the perfect thing to say at that particular moment.
My guess is Mattingly was trying to be accommodating while also trying to think of something encouraging to say. Anyway, that one stray quote was being used against him to the point where Colletti had to explain it.
Anyway, the Dodgers' so-so play isn't Mattingly's fault, as the folks closest to the situation understand. Club higher-ups polled players about all facets of the organization, which generally means they wanted to know what they think of the manager. To no one's surprise, almost to a man the players said they love Mattingly. They also respect him.
Colletti does, too. He is clearly a supporter.
"I see us playing hard," Colletti said. "I see us not being able to execute thus far."
Give it time, and if this is as close to as good a team as they hoped and suspected, they will turn things around.
The new owners, who have shown patience to this point, have made a lot of big and bold moves. The next one shouldn't be Mattingly's firing.
The Twins have already fortified the bullpen with Addison Reed, and now they want to address...

The Orioles likely want pitching, and the Indians have plenty of it

Halladay died in a November plane crash off the coast of Florida
The power-hitting outfielder is headed to Toronto

Martinez could add some power to a Boston lineup void of it

It's almost that time of the year again, time for the Tebow madness to return