Max contract: Scherzer front quiet, but Boras cites Max's stats, guts
Agent Scott Boras seems unworried there hasn't been a lot of lobby buzz about his superstar pitcher Max Scherzer.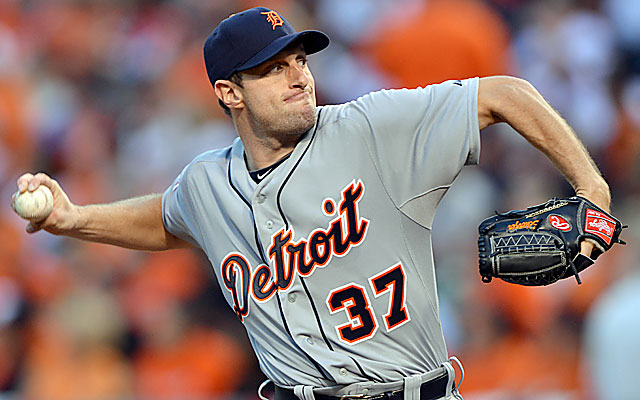 PHOENIX -- Max Scherzer is almost universally considered the top player on the free-agent market, yet his name is hardly being heard around the lobby here. And if it is at all, it is to wonder whether Scherzer and agent Scott Boras made the right call to turn down the $144-million, six-year spring offer by the Tigers.
Curiously, not only has no one from a team has come forward to suggest they are making a play for Scherzer, nobody is even whispering the name of one of baseball's top pitchers. And that last part is undeniable, even if you don't happen to have your hands on Boras' gloss Max Scherzer book, which illuminates attention-grabbing data, from the more obvious note that Scherzer leads the majors in wins (55) and strikeouts (723) over the past three seasons to much more esoteric stuff.
Did you know that Scherzer is one of three pitchers to post a 12 WAR (Wins Above Replacement) over the past two seasons, Clayton Kershaw and King Felix Hernandez being the other two? Or that he has the second best strikeout percentage ever from age 27-29 to Pedro Martinez, ahead of third- and fourth-place Randy Johnson and Sandy Koufax (and everyone else, of course)?
Or that the Tigers played .700 baseball when he started the last two seasons (91-39) but only .531 ball in all other games (275-243), more astounding when one realizes that most of the other Tigers starters are stars, too including Justin Verlander, Anibal Sanchez and David Price?
Anyway, Boras, leaning heavily on this and other impressive data, plus a firmly-held belief that big-time talent never disappoints on a free-agent market, especially during a time of unmatched prosperity in the game, and an even more firmly-held belief in his quiet, intelligent and most of all gutsy client. Boras seems relaxed in his suite here at the Arizona Biltmore, surrounded by his computers and his guys (in that order), offering a visitor a drink or a sandwich while making jokes about the perception Scherzer may not do as well as originally suspected. Or even as well as the money he turned down.
If he is worried, he doesn't show it.
"Premium free agents are rarely talked about at the GM meetings," Boras said. "This is an owners' decision. Every GM wants him. There's always a place for him on every team. The issue is not whether the player is wanted. The issue is whether the owner will make the commitment to try to win the World Series."
Boras has stats for that, too. The last 11 years, according to the shining Scherzer book, the World Series winner had at least one starting pitcher with a 3.6 WAR (good thing Kansas City didn't win, though reliever Wade Davis had a 3.7 WAR), pointing out the need for an ace. The stats seem endless.
Did you know Scherzer is one of only two pitchers with 40 "dominant starts (six-plus innings, two or fewer earned runs) over the last two years, with Clayton Kershaw and King Felix being the other two? Or that he's the 12th pitcher to have 16-plus wins and 230-plus strikeouts three straight years?
Boras and his crew sit in a suite with a golf view, quite far from the action in the lobby, where no one has yet admitted to interest. Oh, there have been a couple whispers, but even those have been shot down. Someone rumored that the Angels could get involved, but an Angels person rejected that idea, saying they sought a starting pitcher, but not one of such exalted ilk. It almost seems like Scherzer is too good for the market at times.
The Tigers say they love Scherzer, but they also suggest they are out now. They considered their offer quite reasonable, and they considered David Price their early Scherzer replacement. They have no plans to get back in, at least their baseball people do not (Tigers owner Mike Ilitch has made deals with Boras his baseball guys didn't endorse before, like the ones with Magglio Ordonez and Pudge Rodriguez).
The Yankees say they are concentrating on bringing back closer David Robertson while looking a lot lower on the market, toward Brandon McCarthy, Jason Hammel and Chris Capuano. The Red Sox have been rumored to be keeping their eye on Lester, their old star, but they much prefer shorter deals anyway. The Dodgers are talking about cutting back. It is hard to guess at who will step forward.
Boras is unbowed.
He has the monster on the market, and a young one at that, certainly by his figuring.
"It's a rare opportunity to get a Cy Young pitcher who has [positive] postseason experience," Boras said. "He really has the [arm] of a 25 or 26 year old. This is like signing a 25 or 26-year-old pitcher."
Boras has stats for that too.
Did you know Scherzer, 30, has throw 20,954 pitches, to 26,321 for Jon Lester and 29,461 for James Shields, the other top two free-agent pitchers in a top-heavy market containing three aces? Did you know he'll have 1,239 1/3 innings when he signs, less than Zack Greinke (1,492), Verlander (1,553 2/3), Hernandez (1,620 1/3) and CC Sabathia (1,659 1/3)? And that he was 29 when he hit 1,230 innings, to 26 for Sabathia and Kershaw, 25 for Hernandez and 24 for Masahiro Tanaka?
Boras declines to talk teams with interest. But as of yet, none have surfaced, at least not publicly, beyond the Cubs, who are looking at just about everyone. But even they may be looking at the big trade possibility of Cole Hamels first, and whose baseball leaders, Theo Epstein and Jed Hoyer, have a longtime link to Lester, if that's worth anything.
Boras won't talk dollars, either, though he made clear how below-market he thought the Tigers' offer was, mentioning how it was "old market" and how it was the same deal given to Cole Hamels two years ago, before he became a free agent.
Boras doesn't offer to comparison between Scherzer and Hamels. But Scherzer, who was 18-5 with a 3.19 ERA last year, stacks up well in his book, against even immortals.
Did you know he's one of six pitchers to combine 10 K's per nine innings and less than three walks per nine innings in multiple seasons, and that the others are Nolan Ryan, Johnson, Curt Schilling, Koufax and Martinez? Did you know that he is 12-2 with a 3.03 ERA the past two seasons against postseason teams? And did you know that he's lasted six innings 57-plus starts the last two seasons, joining R.A. Dickey, Adam Wainwright and Shields as the only ones?
The stats go on and on. There's no doubt to them they made the right call not to take the $144 million offer that the Tigers suggested was "fair" (and was also more than double the offer the Red Sox made to Lester). At least not in their minds.
The Scherzer counteroffer, which has never come out, was said to have been "way, way" above the Tigers' $144 million bid, according to a Tigers person who didn't specify exactly how far above it was. Well, we know it was far enough above that talks ended right there. (Boras did point out that Verlander was given $28 million a year, two years from free agency.)
It remains to be seen whether and by how much Scherzer beats the $144 million bid. But one thing's for sure, Scherzer showed some steel (guts) by passing on a deal that no one has ever passed on before.
"It's rare that someone shows the character and confidence to trust his ability to turn down $144 million," Boras said. "That's never been done in professional sports. And that says a lot about Max Scherzer."
CBS Sports HQ Daily Newsletter
Get the best highlights and stories - yeah, just the good stuff handpicked by our team to start your day.
Please check the opt-in box to acknowledge that you would like to subscribe.
Thanks for signing up!
Keep an eye on your inbox for the latest sports news.
Sorry!
There was an error processing your subscription.
The Nationals outfielder walked it off in front of his fans

Harper rallied to beat Kyle Schwarber in the final round

Happ is expected to be traded before the July 31 deadline
Snell changed his position on the rubber and it turned him into an ace

The Rockies slugger and first-time All-Star cut his strikeout rate quite a bit in 2018

Folty is one of many first-time All-Stars in D.C.