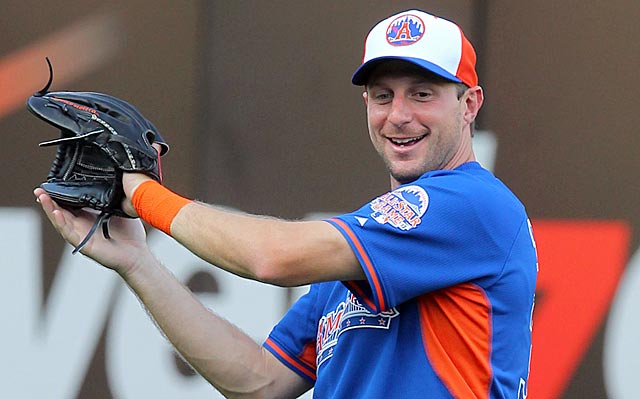 Top right-handed starter Max Scherzer and the Nationals are in agreement on a seven-year deal, CBSSports.com has learned.
Details of the deal beyond the seven years are not known.
Scherzer was reported by the Washington Post to have been "very close" to a deal with the Nats earlier Sunday night after CBSSports.com first suggested a seven-year deal with either the Nats or another unnamed finalist was getting close to happening.
The Nats appeared to come almost out of nowhere in this derby, when very little leaked out for weeks regarding the top free agent on the market. However, one thing that was well known was how many deals Nationals owner Ted Lerner and GM Mike Rizzo had done previously with Scherzer's agent Scott Boras.
Perhaps even more important in this case, Rizzo had a longstanding affinity for Scherzer's ability, going back to selecting him No. 11 overall in the 2006 draft for the Arizona Diamondbacks out of the University of Missouri. Rizzo was scouting director of the Diamondbacks at the time.
There has been curiosity but nothing much concrete in formation regarding the pursuit of the top free agent this winter, even after Lester went to the Cubs. The Tigers, his old team, plus the Red Sox, Yankees, Giants, Red Sox, Cardinals, Blue Jays are among teams that had at least some small public link. But it isn't known which other teams were finalists for Scherzer, who went 18-5 with a 3.15 ERA this past season, setting up his free agency.
Scherzer became a star in Detroit, and the Tigers offered a $144 million, six-year deal in spring, which technically would have guaranteed him close to $160 million since he and the Tigers already had agreed on a $15.525 million salary for 2014, his final arbitration year.
The Nats on paper would appear to have baseball's strongest rotation, at least at the moment, with Scherzer, plus holdover aces Jordan Zimmermann and Stephen Strasburg fronting a rotation of all front-line starters. Doug Fister and even Gio Gonzalez at his best are good enough to lead other rotations, and Tanner Roark had a big season, as well.
The Nats have talked to several teams about possibly trading Zimmermann, and it would seem with Scherzer about to be in the books, that looms as a continuing possibility. The Nats have been unsuccessful in signing Zimmermann to a long-term deal, though the Washington Post also reported the Nats don't necessarily feel obligated to trade high-salaried players to make room for Scherzer, the 2013 American League Cy Young winner. They are still believed well below the luxury tax threshold.
Nats owner Ted Lerner, who is 89, likely saw this as an opportunity to stamp his team the World Series favorite, and they will be seen that way by many, though they were viewed in that manner by some already. Zimmermann plus star shortstop Ian Desmond, Fister and center fielder Denard Span are all free agents after the 2015 season, making this one a key one for Washington.
The city of Washington hasn't won a World Series since 1924, not long before Lerner was born, and he obviously has made that his goal. The Nats are in a changing division, with both the Mets and Marlins rising and the Braves and Phillies retooling.