Max Scherzer and the Nationals: A match not made in trade heaven
The Nationals would probably love to get their hands on Max Scherzer this winter, but they aren't a great trade partner for the Tigers.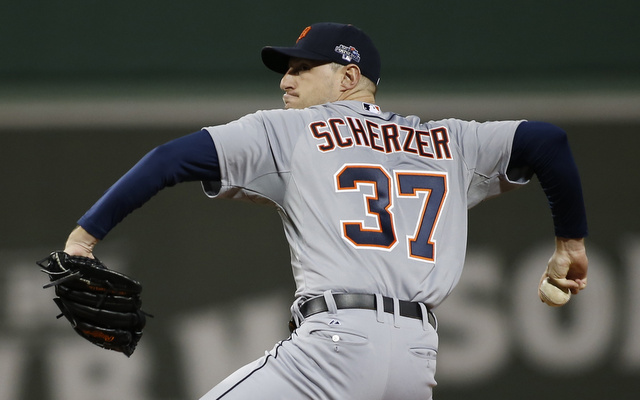 Adding a frontline starting pitcher would appear to be near the bottom of the Nationals' list of needs this winter. Stephen Strasburg, Gio Gonzalez and Jordan Zimmermann form arguably the best front three in the game, plus Ross Detwiler is a solid fifth starter when healthy. They could use some help in the fourth spot, sure, but that's not a huge deal in the grand scheme of things.
In the eyes of GM Mike Rizzo, it is a huge deal apparently. Ken Rosenthal of Fox Sports reports Washington wants to add an elite starting pitcher via trade this winter, turning that dominant front three into a nearly unbeatable front four. Rays lefty David Price makes obvious sense and figures to be on the block this offseason, but Rosenthal speculates Tigers righty Max Scherzer could be their target. He lists some reasons:
• Rizzo drafted Scherzer when he was scouting director of the Diamondbacks. There's a relationship and a comfort level already in place.
• Scherzer is one year from free agency and a Scott Boras client, meaning he won't take a team-friendly extension anytime soon. Rizzo and Boras have a strong working relationship.
• The Tigers have Drew Smyly ready and waiting to take over a rotation spot, so trading Scherzer could shore up several other holes without leaving one in the rotation.
On the surface, Detroit is basically a bullpen away from being the odds on favorite for the World Series title. They'd have a strong rotation even without Scherzer and their lineup is among the best in the game as long as Miguel Cabrera & Co. are around. Adding two or three relievers figures to be on the agenda this winter.
Fortunately for the Nationals, they have relievers to spare. Ex-closer Drew Storen appears to have fallen out of favor in Washington and setup man extraordinaire Tyler Clippard is two years away from free agency. Craig Stammen (160 ERA+ from 2011-13) has quietly been excellent since moving into the bullpen full-time.
Obviously a bunch of relievers won't be enough to land Scherzer, or at least it shouldn't be. Tigers GM Dave Dombrowski is a smart fella, he knows how to properly value an elite pitcher. Relievers could be part of the package though. Washington could offer Stammen plus either Storen or Clippard in addition to top prospect Lucas Giolito and another piece or two (Danny Espinosa?).
That makes sense in a vacuum, but this isn't a vacuum. Dombrowski tends to trade prospects for veterans, not the other way around. Dealing one year of Scherzer for a package headlined by a 19-year-old kid in Single-A plus two very good relievers and some throw-ins isn't enough of an immediate return. That's rearranging the furniture, not seriously improving the club. If you're trading a guy like Scherzer, you need immediate impact in return.
Rosenthal hears the Tigers are in "listening, not shopping" mode with Scherzer and I would be surprised if they moved him this offseason. I definitely believe the Nationals are looking for an elite starter though, I'm sure every team is. It's rare for two contenders to get together for a trade of this magnitude and, frankly, Detroit and Washington aren't great trade fits. They'd both be robbing Peter to pay Paul.
Dodgers manager Dave Roberts on Sunday announced his World Series rotation for the first four...

How should the Astros play it when one of their two aces isn't on the mound against the Do...

The former big-league infielder also worked as GM of the Puerto Rico national team
The Indians pitching coach would be getting his first MLB managerial job

In the last several years, lots of droughts have ended in MLB

The most likely scenarios are Dodgers winning in five or six games