Max Scherzer takes Game 1 start and turns it into work of art
It might have seemed strange that Scherzer, and not Justin Verlander, got he Game 1 start for the Tigers. But with a win in their pocket and Verlander on tap for Game 2, Jim Leyland's decision looks to be pure money.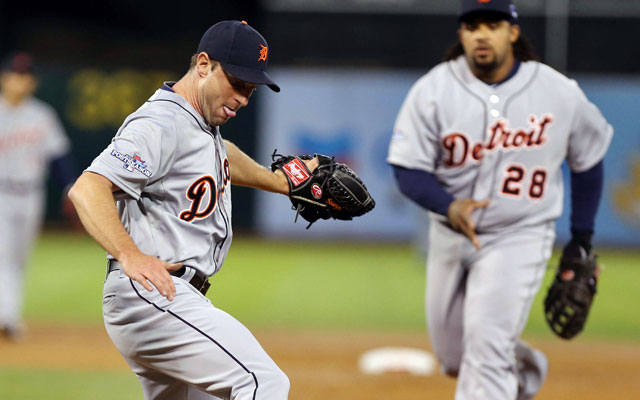 OAKLAND – Strangest sight of the postseason so far? Not David Price celebrating with Silly String. Not Wil Myers dropping a routine fly ball or Dusty Baker getting canned. And nope, not even the cartoonish shrubbery obscuring Brian Wilson's face.
Try the Tigers handing the Game 1 ball to Max Scherzer.
Yes, he's had a fantastic 2013, started the All-Star Game, is going to win a Cy Young award and blah, blah, blah. All of those things. But after the past few years, still … Scherzer as Game 1 starter over Justin Verlander?
"I don't think there was too much surprise, given some of Justin's struggles and given Max's dominance this year," Tigers catcher Alex Avila was saying after Scherzer stuffed the A's 3-2. "We feel like we have No. 1 starters throughout the rotation. Our guys have stuff that good.
"We've been pitching that way all year long."
Close your eyes Friday night, and you could have sworn that was Verlander, circa 2011, out there throwing the lighting bolts.
Close your eyes Saturday night, and who knows? Verlander on the mound, maybe you'll see Scherzer from the night before.
Only time Scherzer looked even remotely vulnerable to the A's was in the seventh, when Yoenis Cespedes smashed a two-run homer to trim the Tigers' 3-0 lead and briefly give the sellout crowd of 48,401 – largest at O.co Coliseum since June 27, 2004, hope.
But even at that. …
"Whatever Scherzer's game plan was, he executed it to a T," A's third baseman Josh Donaldson raved. "Even on the Cespedes homer, it was a 96 mile-an-hour heater down in the zone. That's a strong fellow."
And Scherzer was a steely presence.
No question, starting him was the right thing to do.
But had it blown up in manager Jim Leyland's face … can you imagine the debate that would be raging today over talk radio and Twitter and probably even Instagram?
Now, the A's already are in a hole and must take down Verlander in Game 2 just to pull even.
"He was awfully determined," Leyland said of Scherzer. "He was thrilled to get Game 1. I think it meant a lot to him, even though he said it didn't matter which game he pitched."
That the Tigers could even consider shoving Verlander back to Game 2, let alone actually do it, emphasizes both the staggering strength and depth of their rotation.
Even with groin strain hobbling Miguel Cabrera, these Tigers are legit threats to win their first World Series title since 1984. Just understand, the degree of difficulty is greater than it was a month ago, because poor Cabrera can hardly move.
Though he drilled a sharp RBI single on the first pitch he saw in the first inning Friday, moments like that belie the fact that he's just a shell of what he was earlier this season. He's got no foundation underneath him with the groin injury, which saps his power and was the overriding reason why he had just one home run in 86 plate appearances in September.
"A guy going out and doing that with a nagging injury, that's pretty impressive," center fielder Austin Jackson said of Cabrera's putting Detroit on the board just three batters into the game against Bartolo Colon. "He's definitely seeing the ball."
But not thumping the ball.
So what you've got is the baseball equivalent of an automobile (Motown license plates, incidentally) roaring down the freeway with the "check engine" light blinking. It is painful watching Cabrera attempt to run, but with this pitching, the Tigers can still get to their exit.
Verlander looked spent for much of this season, as if he had thrown way too many pitches over the past few seasons. But then came September, when he posted a 2.27 ERA with 48 strikeouts over six starts.
Leyland admitted this week that he and his coaches secretly have been discussing (agonizing?) over how to slot Scherzer, Verlander and the rest since before they even clinched.
Scherzer made them look like a group of baseball Einsteins. He absolutely overwhelmed the A's through six brilliant innings, before Cespedes beat him on his one misplaced pitch in the seventh. His fastball popped into the high 90s, he struck out 11 over seven innings and generally had the A's eating out of his hands like friendly horses in a pasture.
He fanned Brandon Moss to start the second by going up the ladder with his fastball, 93 then 94 and, finally, 96. Two batters later, he blew a 98 m.p.h. fastball past Josh Reddick, and then he hit 99 one batter later, just before Stephen Vogt said "uncle" with a liner to first.
Over the fourth and fifth innings, Scherzer fanned four in a row and five out of six hitters. In this, his second time through the order, he dialed things back, fanning four of these five hitters on changeups between 84 and 87 m.p.h.
"That was exactly the plan," Avila said. "With Max, you always want to establish his fastball, make sure he's in a good groove."
Then, out comes the slider, curve and changeup which, as Avila dissects, are able to "lengthen out the game for him."
Scherzer is a cerebral pitcher who goes into each game – each inning – with a plan and strongly believes that the last 15 pitches a starter throws are the key to the whole deal.
To that end, when things got especially dicey after Cespedes' home run, following Brandon Moss' leadoff single in the seventh, made it 3-2 … Scherzer regrouped and got Reddick to fly to left and Vogt to pop to short before striking out Daric Barton. To those three hitters, Scherzer threw the final 13 of his 118 pitches.
"The last 15 pitches indicate how your outing goes, and the wheels could have come flying off," he said. "I thought I kept my composure and … was able to continue and execute curveballs and changeups to those three left-handed hitters."
This side of a no-hitter or perfect game, it was as complete and dominant a pitching performance as you'll see. It was a clinic.
And now the A's get Verlander, who wasn't exactly pouting while Scherzer was dealing.
"Justin handled it beautifully," Leyland said the other day. "You couldn't handle it any better."
Said Verlander: "The four guys we're throwing out there are four of the best pitchers in the league. And we were all year."
He's right. And if Oakland doesn't prove him wrong over these next few days, then this Division Series will end the same way it did last October, covered in Tiger stripes.
The lefty starter is coming off a terrible season

After acquiring Ian Kinsler and Zack Cozart in recent days, the Angels are trending upward

Cozart's coming off a big season as the Reds' shortstop
The veteran slugger spent the last eight seasons with Cleveland

The Padres may be poised for an active winter

Yes, Bryce Harper is going to make a lot of money next winter